Time to Smell the Joshimath Salt
25 Jan,2023
By Sanjeev Kotnala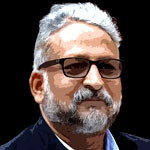 The news of cracks in the Joshimath (Uttarakhand) houses has slowly disappeared from print and television screens. It again demonstrates the media's susceptibility to sensational news and playing to a voyeuristic audience. Just like the lack of follow-up administration, follow-up journalism is dead. I react as the news is about Uttarakhand, my native state. So, I selfishly take this space and your precious time to keep it alive in your mindspace. I know not much will happen, but I will feel less guilty of inactivity. And maybe the media would wake up again to its responsibility without waiting for man-made natural disasters, which can happen today- tomorrow or in the next few years.
What you watched on screens and read about the Joshimath, Uttarakhand cracking under natural man-made disasters is just the tip of the iceberg. The foundation for it has been laid many decades back. Voices of protest by vigilant civic groups and protestors have been ignored by indifferent governments focussed on rapid development projects.
Joshimath became the focus when hiding the brutal realities was no longer possible. It is, after all, a strategic town for tourism and from the national security point of view. This fact, instead of being a boon for the residents, has been a curse for unscientific, unsustainable, hazardous development.
Most of us are aware of various reports with uncanny consistency, red-flagging the disaster in the making. It is different that the government found ways to read between the lines and point out shortcomings of the reports to ignore them. There is no point revisiting this ignorant apathy of state administration.
It is clearly a case of fragile young mountains with low weight-bearing capacity. Joshimath cracks have made headlines, but many other places have reports of sinking land. Heavy tourism and other ill-conceived projects are slowly pushing them into a potential disaster.
I am from Lansdowne, Pauri Garwhal. Whenever I have driven inwards or have heard people visiting from upper zones, the story is the same. The towns are rapidly being sacrificed to tourist and religious tourism trails. The massive road and hydel projects threaten the fragile ecosystem. The rampant construction of hotels, no planning and blatant flouting of the rules is exposing these places to a future of natural disasters – that will be entirely man-made.
This is the time to pause, and while we may continue to probe about what and why of the past reports, action and inaction, greed, and development, we must invest in reflection and define the future course of action.
Uttarakhand faces multiple problems. Migration, emptying villages and towns, lack of opportunities, unemployment, women and child health, potential ecological disasters, and dying traditional farming. Everything is concentrated in a few towns- further enhancing the problems.
I am no expert, but as a layman can see Uttarakhand's problem. The answers must be found collectively in a time-bound process. It may help other hilly states learn and avoid such a situation.
The people of Uttarakhand are willing to be part of corrective measures even if they initially have to go through some hardship. Remember, the problems are not just of Joshimath and surrounding areas. The problems in many other places, including Nanital, Lansdowne, Mansuiri, Almora, Bagehwar, Chamoli, Pauri, Tehri, the valleys and towns like Dehradun, Haldwani, Kotdwar too.
NET-NET: THE ACTIONLINES
Here is something that is expected from the government:
1. Formulate and implement a strict tourism policy. Using technology control bookings, number and movement of tourists.
2. Restrict stay options. Only licensed hotels with strict guidelines. Stop any new hotel projects, cap and license homestay.
3. Impose a development and ecosystem tax to enter the state and a higher tax for the places in fragile zones. Think again – is there a need to speed up and over-amenities religious tourism.
4. Initiate a complete geological study under the competent authority and experts, leaving no scope for later fault finding or pointing out the shortcoming. Do all the test that is required. And when it is completed, please read, understand and act. The government has initiated some 6-7 studies specific to Joshimath. Still, the time given to them is short, and it seems that is someone just ticking the box.
5. Stop all Hydel power projects and re-evaluate their short and long-term impact.
6. Define and strictly follow construction structure and material guidelines for houses and commercial properties.
7. Do not create new settlements without proper evaluation and sub-infrastructure development. At the same time, finding new locations is needed to decongest the existing infrastructure.
8. Bring the BHO-KANOON into operation and expand its scope. Do not delimit new areas.
More than anything, start listening to local bodies. Because when the primary beneficiary of a project protests, there is a question of survival. It is time that local and civic bodies are taken into confidence before the project's approval.
The Joshimath problem should not be restricted to the continuity of Yatra in 2023 or the bypass for national security. It should be seen as a red flag for all that affects the state.
I hope Joshimath acts as the wake-up call Uttarakhand needs. We all must become cautious in our actions and seriously consider the impact of our projects and any further development in the area. I hope we are not too late. And the media plays a constructive role in keeping the issues alive and questioning the government policies, actions and inaction. That follow-up journalism delivers the goods.
FINAL WORD
The recent disaster in Joshimath has highlighted the need for better disaster management and relief efforts in Uttarakhand. The government must take steps to improve preparedness and pre-emptive measures, ensure swift and efficient relief and rehabilitation efforts, prevent future disasters, and be transparent and accountable in its actions. The people of Uttarakhand expect the government to take these measures in order to ensure their safety and well-being in case of a disaster.
…………………………………………
Here is some thing you can read about Sinking Joshimath and watch these videos on the Joshimath problem.
Joshimath Sinking- a talk with ATUL SATI.
Ground report- Why is Joshimath in Danger?
Expert talk- Joshimath Sinking
………………………………….
And as an experiment one paragraph of the above article is written by ChatGPT.