Shouldn't Media Brands be also Considered Influencers
15 Sep,2021
By Sanjeev Kotnala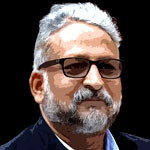 As part of the fraternity, I respect the Advertising Standards Council of India (ASCI) as an industry body trying to rein in the irritants indulging in misleading advertising. In the past, I had questioned AAAI and AdClub for inviting senior leadership of the Babajee Brand as speakers at Goafest. It was when Babajee and his team were blatantly flouting every ASCI guideline. At another time, I have called ASCI a toothless tiger that no one is afraid of. I have raised questions as well as appreciated influencer guidelines in digital when we have not been successful with the traditional media doing the needful. And questioned why celebrity endorsement should be an advertiser issue than an ASCI issue. And, my love-hate relationship with ASCI continues- as I know- if self-regulation fails, regulations will be imposed.
Recently, I complained to ASCI about something that was a clear violation of ASCI guidelines. In one case, the verdict was in my favour. In two cases, the complaint was rejected or summarily dismissed. That's ASCI way, and there is nothing wrong with it. However, it gave rise to some questions, which I plan to raise here.
The aim is not to only find fault with ASCI. It has done a decent job of what it is expected to deliver on and continuously expands its scope. But, then, at times, there is an expectation-experience, promise-delivery gap.
Some Advertisers Are More Equal Than Others?
Recently, someone complained about advertisements by the government. And ASCI asked the person to better speak to the I&B ministry. As a policy, ASCI does not interfere with political and non-commercial advertisements by the government.
In this nation of democratic and secular values, ASCI, an industry body, the watchdog of Indian advertising standards, binds itself with the mandate and policies constraints and ends up differentiating between advertisers.
Quote from ASCI:
'ASCI recommends that anyone who has complaints against any political advertisements should write to the Election Commission of India. And send complaints against non-commercial government-released TV advertisements to the Ministry of Information and Broadcasting, New Delhi, which is the regulator for TV content and for press advertisements to the Press Council of India, New Delhi, which is the regulator for print content.'
Quote over.
As per ASCI, 'It is a "self-regulatory" body created by advertisers to keep a tab on advertising created by the commercial industry. That is ASCI's mandate.
In some countries, the government gives self-regulatory organisations a mandate to regulate governmental and political ads, but that is not the case in India.
Now, we can continue to have this policy and use the mandate as an excuse or work towards changing with time.
After all, such ads can influence the composition of a government. They are far more harmful than any other brand or service. Someone needs to re-evaluate. Hopefully, ASCI will take action.
Media as a Responsible Influencer
We all know that media is a big influencer. And when it comes to print that enjoys the highest trust- people still take the written (News) as gospel truth. Paper may chappa hai. It is printed in the newspaper. So, should the guidelines that impact and apply to digital influencers not apply to older traditional media with a potentially larger audience susceptible to its charm. More so, when a lot of misleading advertisements are being released as Advertorial- native advertising.
Does ASCI have no role in the media prominently flagging such work as Advertorial? Remember, most readers may not differentiate between news – Advertorial- feature or impact feature.
Does ASCI have no role in defining the size and placement of such a disclaimer?
Can ASCI guidelines not prevent such disclaimers from being tucked at the end bottom in small point size? And should this not use the language of the newspaper? Otherwise, it should be acceptable for an influencer tweeting in English to put the disclaimer of material gain in Russian.
ASCI – Scope Ends at Advertisers & Agencies
In the last case, ASCI first rejected the complaint against an 'Impact Feature' of a leading Hindi newspaper of Uttar Pradesh, as beyond its purview as it saw it as news. It was pointed out that it says Impact Fature at the bottom of the page in small print. The whole page with some 14 news items on a single educational institute is an ad. It can't be news. At least the body governing advertising should understand this much. ASCI finally accepted the complaint.
Why is ASCI so myopic?
Why must someone have to point out and explain this simple thing?
ASCI sent a clarification notice to the advertiser! Who conveniently decided to ignore and not reply.
Can ASCI use its clout with media to stop the educational institute from running new or similar advertisements or advertorials until it answers ASCI?
ASCI says they have no say on the content of a newspaper. It may not be fake news, but it is curated news. It is drafted and crafted to look-and-feel and be consumed like news. Thus, it is no longer mere content but an advertisement with financial considerations.
I am not sure if the media house was contacted or prevailed upon. That's where the story ends.
Meanwhile, the media brand – the newspaper – continues to publish such advertorials. There seems to be no advertising-media body willing to call this clear misleading and highly influencing act. There is no doubt that the advertiser and the media partner in crime and laugh at ASCI's inability to act on such complaints. Is ASCI willing to continuously be laughed at?
ASCI agrees that the media can be more responsible in matters pertaining to advertorials and promises to try and work on a stronger resolution to address that.
The question is, what are we waiting for?
Net-Net
One would want to know.
1. Why does ASCI not treat media brands as an influencer and apply influencer guidelines to them?
2. Why does ASCI not question media when any large media house is (should) be aware of what they are doing?
3. Does ASCI fail to understand how damaging Advertorials are to the gullible audience?
4. Does ASCI seriously believe that such advertorials fulfil its Honesty, Decency, Non-harmful and Fair criteria in competition?
5. As a voluntary self-regulatory organisation comprising members from India's marketing, creative, media, and allied companies, does it have no role to ensure media acts responsibly? And if yes, does such an act is not against its construct?
6. And who should the public complain to if ASCI fails to deliver on its promise?
Maybe there are well-known guidelines, but recent reactions of ASCI in treating such instances clearly tells that media, advertisers, and ASCI don't seem to care.
Sanjeev Kotnala is a senior brand strategist and educator. He writes on MxMIndia on most Wednesdays. His views here are personal