Cred-ibility ka sawaal hai!
21 Apr,2021
By Sanjeev Kotnala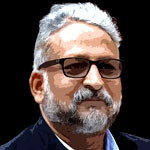 A certain TVC by a service brand called Cred initialied random thoughts. And you can squarely blame it for this piece.
Life is a switch. Yes, I will not make any politically incorrect statement. Life could have been a dog, but dogs love unconditionally. They are loyal and so intelligent. So, it better remains a switch. Give me time, and it will make sense. I thought I have seen and learned everything there was. And then I saw this brand Cred. It makes these ridiculously, completely illogical television commercials.
I realised everything is interconnected. And if not, the consultants, marketers, strategist and planners will connect the free-floating dots. That's their job. Something like the butterfly effect, induction process, domino effect or simply the interdependency of interconnectivity is working here.
Last year, they just wanted to give a simple message, 'Download cred and get points to pay your credit card bills. But no, they made Govinda, Madhuri, Anil Kapoor and Bappi da audition for the shoot- and just ran the behind the scenes as a commercial.
People like me did not get it. Many industry stalwarts did not get it. A few expressed their appreciation, and the audience for who the ads were made kept talking. Everyone got the message. I wondered if I would have allowed such a spot to be presented to the client on my beat. Or, If I was the client, would I have bought the creative. I still wonder what the client and the agency smoking was. Whatever it was, I wanted one. Is there anything wrong with this walk the talk or talking walk ad of CRED that explained logically what the whole thing was about and what you get and, yes, who can get it?
Meanwhile, I kept wondering why people were not taking the jab. No, it is not the aftereffect of the first shot of Covidshield that I took on April 4. Wondering why the so-called intelligent literates are not following social distancing, masking and washing hands. Were they not the simple steps. Was the nation asking much? Wondering how and why the election rallies without masks are not creating a chain of possible virus spread? Then I take a deep breath and remind myself, do not worry about things that are not in your control- it is accidental and incidental.
This year, these Cred fellows went ahead. Even during the lockdown think they managed to get their stuff from the Himalayas. They made my hero, almost an idol; the Wall angry and declaring himself as Indiranagar ka Gunda. Suddenly he is no longer low profile. A simple flip of an image. He definitely seems the dude who will fight in the traffic jam. The Iceland volcano just erupted.
Meanwhile, Sachin Waze has said someone from BARC paid INR 30 lakh. And there is a money trail. Someone may turn approver, and the beans may spill out. It is getting murkier with time, As fast-paced as "Predators and Prey' by Abhinav Agarwal. There is more to come. The nation may not want to know, but the industry does need the answers. This is about the public and the republic. It is about the audience, media and measurement.
Meanwhile, the Cred advertisement is applauded for sheer brilliance. The last time it screened behind the scene. This time, there are random clips to tag with the lazy, stupid sit-down message from someone at Cred. Personally, I do not like what they are doing. They are bright, and it shows. I could only say well done and maybe smile (I don't bow) to their thinking.
Monopoly is wrong, but the boardgame is good. Better than Ludo and Snakes and Ladders. Inside trading. Inside programming. Data analysis to favour the system. You google, and it will tell you even Google has been doing it. Part of the business, you ask. What's happening?
In between, these Cred guys used Jackie Bedu Shroff to tell us, 'it pays to be good- pay your credit card bills. As if banks will allow us to forget paying them. I knew then that they will come back with points, rewards and cashback.
An initiative in the southern hemisphere is forcing the digital giants to compulsorily negotiate and share revenue. Inspiration everywhere but the Indian media remain silent and continue to debate the minority-majority issues. Wherever there is a carpet, there is a story under it.
I am now worried. The Cred  fellow has got even Jackie Bedu Shroff to Zumba and lead a Zumba class. All because this smart-looking Jim Sarbh wants to try doing an innovative Trivago ad. All they want to tell you is simple 'when you pay credit card bills on Cred, you earn Cred coins, and you can use them to claim cashback and rewards. Knowing them, there will be more such innocent people trashing their well-developed image- CREDibility. Who next? Watch here a wee bit more of the CRED ad.
As I think of it, I read about the superhero Sonu Sood who has taken the vaccine to encourage others to take the jab!!! Hello, is that right? He has done outstanding work during the first wave, and the way we all are, we look up to him to do some magic again in wave two. If there is an influencer right among the people- then it is Sonu Sood.
I would hate to see him in Cred. Credibility ka sawaal hai.
Meanwhile, one brand MAGICPIN  has taken the opportunity presented by the unique Cred approach and created a quick spoof. Well it works as far as catching eyeballs and the desired buzz is considered.
……………………………………..
Sanjeev Kotnala is a senior marketing and strategy advisor and educator. He writes on MxMIndia every Wednesday. His views here are personal