Goafest: No News is Not Good News
31 Mar,2021
By Sanjeev Kotnala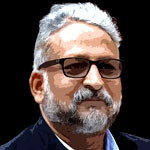 It is that time of the year. Goafest time. For the last 15 years, until 2020, Goa was my annual advertising, marketing, networking pilgrimage. I have attended every edition of Goafest.
I have associated with Goafest in multiple capacities. I have been a delegate, a sponsor, an awardwinner and a jury member. Oh, I have rebelled by attempting to hijacking one evening with a successful standalone show. Few unfinished stories started at the Goafest and never reached a conclusion. I led cross-functional teams to publish the daily newsletter, including the first 3D issue at Goafest. Once, I objected to some Swami's presence as a speaker. Pushed for more respect and participation to Publishers' Abby.
I have been an observer who regularly provided unsolicited inputs and suggestions. Some of them found the right ears and minds to impress and were implemented with no credit. But that's par for the industry, or I think some else too had similar brilliant thoughts at the same time.
So, it is natural that towards the end of March and the first/second weekend of April, I am full of nostalgia. My mind longs to be at Goa and enjoy the festival of advertising excellence. Thankfully, there are no withdrawal symptoms.
GOAFEST 2020
Goafest 2020 was rightfully postponed as the entire country was reeling under the spectre of the Covid-19. Later, Abbys were also deferred. The Red-Abby, which was to have its maiden appearance, remained silent. Later the whole show was cancelled.
GOAFEST 2021
One expected 2021 to be better. But, the Covid pandemic is back with a vengeance. The organising bodies AAAI and Advertising Club are silent. There is no announcement I know of.
Don't think there is any time left. In all probability, Goafest 2021 is dead.
The question that stares you on the face is not so simple. Will Goafest ever be revived? There is no reason to believe it is dead! But most people do not see many reasons for it to be restored.
FESTIVALS ADAPTING TO CHANGE
I do not understand. When most of the awards have adapted to the new realities and have gone online or found other ways to celebrate, what stops from Goafest from doing the same?
Is Goa the problem? Goa and virtual fun – does not sound right. What about the drinks? The tamasha? The knowledge sessions? The manpower poaching and interviews? Maybe, this is the right moment to get Goa out of Goafest. Maybe, it is time to get back to celebrating the excellence in Advertising and Marketing and be location-agnostic.
ABBY COULD HAVE CONTINUED
The Advertising Club says on its site: ' Recognition of efforts is what motivates an individual. And for an industry that thrives on motivation, the Ad Club has initiated various awards to ensure that Indian ad professionals receive the recognition they deserve. The ABBY AWARD are the Oscars of Indian ad awards to honour creative excellence in advertising."
So, when  Cannes changed its format and dates, it allowed a rich interaction with archives and sessions.  Adfest Pattaya went online and announced the winners of the last two years. Near home, award functions continued. Virtual webinars and exhibitions thrived. Knowledge seminars buzzed with suitable content and names… so what about Goafest? Kyoorius Award have started the entry process and were successfully conducted last year – what stops Goafest? Meanwhile, I read about the Filmfare Awards 2021, when the industry was almost shut for the last year. As I write this, I wait to watch the Mirchi Music Awards.
EXPECTATION AND EXPERIENCE
Goafest has evolved with time. Setting up new expectations and creating experiences to bridge the gap. So, what stops it from taking that leap of faith and get to a 2021 Goafest version going.
Don't the organisers have the responsibility and direct accountability to the community of agencies, clients, researchers, PR and marketers. Should the elected body at Ad Club and AAAI not go the extra mile to see it happens.
2020 is understandable. But what about 2021.
Why is no one asking and raising the voice?
Or maybe Goafest does not call for such concern!
Maybe, it is just me who is paranoid about the changes and what it could spell for Goa in Goafest.
The industry has worked within imposing constraints. Brands and agencies innovated to find new ways to create fabulous relevant-original and impactful work.
Should these industry warriors go unrecognised?
Or do we plan to have a three-year award show in 2022 – subject to fair weather conditions.
THE INDUSTRY NEEDS POSITIVITY  
The economy, business and the advertising-marketing fraternity can definitely do with some positivity and celebration. Offline or online. WFH or lazing around in Goa. Remember, consistency is always a winner. Voids and absence give rise to many uncomfortable thoughts. Frankly, I can't think how we will bridge the gap if Goafest is not held this year.
Sanjeev Kotnala is a senior marketing and business strategist and educator. He writes on MxMIndia every Wednesday. His views here are personal