Sanjeev Kotnala: Crazy Travel Bucket List Seeks Sponsors
13 Jan,2021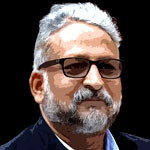 By Sanjeev Kotnala
We all have dreams, desires and aspirations. We have our list of things we want to do before we die. May be few of them already has a timer ticking. To focus on them, we create Bucket Lists. I am sure you also have your Bucket List.
I am a disciplined, organised and process-driven man. Hence, I have many bucket lists. You can filter and search my lists across parameters like category, possibilities, potential, desperation, desirability and experience. In Mudra, A G Krishnamurthy told us: 'You have first to dream before you can realise the dream'. And a few of my dreams are trapped in my bucket lists.
I may not have ticked any in the bucket list, but I periodically clean the mess in there. I revaluate and trim the list as per the changing scenario and possibilities. What are the dreams in your bucket list? 
My Travel Bucket List
One of my bucket list is about travelling. Naturally, I am super excited about every item on it. One that tops the list is the proposed Delhi-London road trip.
Twenty thousand kilometers across 18 countries in 78-odd days! A trip by Adventure Overland with opportunities to spend time in Myanmar, Thailand, Laos, China, Kazakhstan, Kyrgyzstan, Uzbekistan, Russia, Lithuania, Latvia, Poland, Czech Republic, Germany, Netherlands, Belgium, France and the UK. What more, only 20 passengers per bus.
Help Me Make It Happen
Someone said on WhatsApp, "this time they are not going to Europe in year-end due to covid-19 scare". And then added, "every year we don't go because of money". I empathise with the statement. It is my problem too. And if I manage to get the right sponsor in this era of social media, it could start a trend.
I would love to get on this trip in 2021 but will miss it for the Covid-19 scare. However, if I miss it in 2022, it will be because of the lack of sponsors. So, here it is out in the open. I am looking for sponsors to help me tick my bucket list.
I am not fussy about the sponsor. I am okay with any person, Brand, Company, Corporate, NGO, Education Institute or even a trust sponsoring me. All I needs is around 55 Lakh PLUS for a team of two. The PLUS depends upon the deliverables the sponsor would want.
Do write to me if you want to sponsor the whole or part of it.
Deliverables. What does The Sponsor get? 
What the sponsor gets defends upon what the sponsor wants and the funds available for the trip. We can always discuss it over a cup or glass of whatever sponsor likes. We will sketch out an experience benchmarked against a realistic expectation.
Many possibilities exist. A dedicated updated website, Blog, VLOG, Instagram feed, FaceBook stories and Twitter are hygiene. Discussion, comments and coverage of International brand presence and support service are possible.
I can pre-commit to a coffee table or a travel book if funds are available. A coffee table book with beautiful pictures shot in iPhone 12 ( take the hint) will be fantastic. Photos of brand product or category captured through the lens across different countries. The brand can convert my experience into 3-4 episodes.
We can always brain-swarm ( Brainstorm is dead) what works for the sponsor. 50 Lakh Plus should not be a deterrent for a brand that can amplify it. I am an advertising-marketing professional and an advisor, so I know how to take mileage of the project better.
What about running a contest for my partner on the trip. Gender and age is not an issue. Do connect if you want to sponsor the whole or part of it. Agencies may wish to connect and discuss the possibility for the brand. I Prefer ONE BRAND TAKES IT ALL APPROACH. 
Another Trip in My Travel Bucket List.  
Now, the art of managing bucket list is to prioritise what you want to tick off first and be flexible in your approach. In addition to a few international travel, I have India travel too in the bucket list waiting for the right sponsors. This one is not crazy enough, but absorbing it is.
It is to drive through 18 states of India. Stopovers in more than 54 cities. Meet people, interact, deliver talks and guest lectures. It should start in November in one of the years and end by April 30, next year. It will cover more than 10,000 km in 180 days. Interested?
My Complete Travel Bucket List:
:: Route 20.The loneliest road in America. It is the GOLD RUSH ERA HIGHWAY that paves the way to the west's Last frontier. I borrowed that from National geography and will borrow more. "It's a place where the lines between John Wayne Westerns and everyday life blur, where ghost towns bleed into living ones. You can't count on cell service or gas stations, on places to eat or even people to wave at as you pass".
:: The Trans Canada Train Trip. Toronto to Vancouver. 84-hour.
:: Jammu- Kanyakumari Express– Indian railways are you reading this? Train Himsagar 16317. Covering 3714 KM touching some 67 stations in 74 Hour.
:: Mumbai Guwahati Express. The fastest train on this route is 02519 LTT KYQ AC EXPRESS takes 44 Hour to cover 2500 KM. Indian railways interested?
:: Manali Leh SUV Mahindra!
:: Trans Siberia Train. Beijing to Moscow. 7621 KM in 6 nights.
:: The Orient Express. The original does not run any longer—the Orient Express train ( by Belmond ) between London and Venice.
This is the newly pruned list. A realistic possible Fantasy is always better than a fantasy Fantasy. Maybe there is a crazy idea of starting a company that picks these crazy dreams of perfectly loony people and then matches them with the Brand needs and purpose.