The Death of Advertising As We Know It
17 Nov,2020
By Prabhakar Mundkur
Prediction on the death of advertising started at the turn of the millennium.  Perhaps the first stirrings on the death of advertising almost started with the birth of the internet. Pooh-poohed for most of the time, most advertising folk refused to accept the death of their industry and were filled with a strong sense of self-denial.  The way that people consume media has probably dealt the final blow on the advertising industry.
When I joined advertising in 1977, advertising was considered an art form. And like most art there was an air of gay abandon about it, that went well with its brand of creativity.
The Big Bang 
In 1987, WPP which swooped down on poor old J Walter Thompson who was ripe for an acquisition attack. Poor old 'Commodore' Thompson might have flipped in his grave. Ogilvy was acquired two years later. David Ogilvy is known to have called Sorrell an 'odious little shit' later softened to 'odious little jerk' by the media.
I call this the first Big Bang in the advertising industry. The culture of ad agencies was to start to change forever. They would become so bottom line oriented that all other lines in the agencies including strategy planning and creativity would start to become affected. You can imagine the shock – a math man running a bunch of mad men.  I was at JWT at that time and the first effect I saw was suddenly the exit of the best minds in JWT.
The second Big Bang was the painful extraction of the media business from the main agency to create stand-up independent media agencies. In 1998, I was in JWT Shanghai at the time, and we were the second JWT office in the world to create an independent media agency and tear it away brutally from the creative agency. The 15% media commission which was beginning to break down any way suddenly became the norm rather than the exception.  The net effect of this Big Bang was that the media plus creative function was being paid much less than ever before. This resulted in less training, lower salaries, less interest from business school graduates to join advertising, less travel, and less talented people finally willing to join advertising.  In a way it was the beginning of the slow downfall of advertising.
Famous ads written by Sir David Ogilvy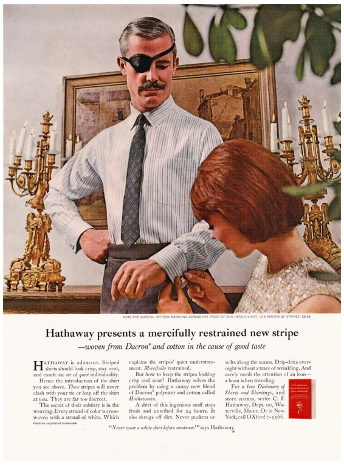 Enter the New Millennium
The new millennium brought with it some profound changes.  The internet was beginning to change the way people live, read, do business, buy, and connect with other people.  In 2004, Mark Zuckerberg launched Facebook.  We learnt a new term called 'social media' with its advent. LinkedIn was launched earlier in 2003 and Twitter later in 2006. A host of other social media would completely change the way we live.  So would advertising unfortunately. Because people were spending much less time watching television and reading the newspapers and listening to radio.  In 2019 people spent more time with digital media than with traditional media in the US.
Time spent per day
Source: statistica.com
The world of digital and social media meant new ways of talking to consumers.  This gave rise to new techniques in communicating. It meant that the skill needed to produce the famous Volkswagen Beetle ad by Bill Bernbach that made it a cultural icon that sold millions of cars were no longer needed. One can't forget of course the degree of difficulty posed to sell an ugly German small car soon after World War II, to Americans used to the luxury of large cars, something the Volkswagen ads achieved admirably.
1959
2019
In fact, the brilliance of the written word employed by master craftsmen like Bill Bernbach and David Ogilvy or the keen visual eye of Helmut Krone was perhaps no longer needed.  In the new millennium creativity had played hide and seek behind a much-abused word called 'content'. Content was very forgiving of real creativity and happy to make friends with mediocrity.  In contrast to the Think Small ad, the Facebook ad of today for Volkswagen will be judged by the number of likes, comments and shares.  And not purely by how much the ad moves you like the Thing Small ad.  In fact, there seems to be no particular skill this Facebook ad might need either in terms of word or visual craftsmanship.  Suddenly communication had become the domain of data scientists and engineers whose province was machines, algorithms, big data and artificial intelligence. And perhaps creativity was reluctantly but surely taking a back seat.
How Advertising finally died
While many predicted the death of advertising no one quite predicted how it would go.
In the last year, it certainly seems that advertising agencies will get gobbled up by digital agencies in the same group. Grey Advertising is the most recent example which merged with AKQA to form AKQA Group.  Last year similarly JWT merged with Wunderman to form Wunderman Thompson.  And Y&R merged with VML to form VMLY&R. I wonder who is next?
Suddenly the heritage of a 100 years seems to have gone into the dust. And with the merger goes their history and great creativity of several decades.  When a brand dies, everything it meant to people dies along with it. It is ironic that WPP the group that bought over JWT, Ogilvy, Y & R and Grey is also the company that killed those very iconic advertising agency brands.
It's a pity that advertising had to die so suddenly and just get obliterated from the face of this earth.
Prabhakar Mundkur is a veteran advertising professional and now a prolific commentator. He spent 17 of his 42 years in advertising with the agency once known as J Walter Thompson working with them across three continents. He has also worked with Havas and Hakuhodo. He has been voted Top Voice on LinkedIn, one of the Top Emerging Voices in yourstory.com and has written nearly 400 articles in the last four years. He was once an HMV and Polydor recording artist playing both the guitar and piano and still joins the occasional gig for friends. You will find him on Spotify and Apple Music with his recent compositions. He can be reached via Twitter at @wisecowboy. His views here are personal.