Sanjeev Kotnala: Fake News More Potent than Highjacked History
25 Nov,2020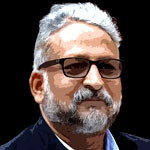 By Sanjeev Kotnala
Recently, I experimented with 'Audible'– where you listen instead of watching or reading.  My expectations were not too high and the experience polarised. Audible was great for talk shows, book summaries and audio drama. But, when it came to books, I have a mixed reaction. Well, it does help me utilise time as I listen to them during my walks. What flipped me was the audible original 'Hijacked History'.
I have heard of fake news. Here Dominic Sandbrook, a British columnist and television presenter, was talking about Fake History- something new to me. Have we all not already corrected our history.
While I was growing up, the printed word and what my parents told needed no proof, unlike today, when kids check with Google Uncle if what their parents tell is right.
FAKE HISTORY IS AS REAL AS FAKE NEWS
Dominic Sandbrook explores two-and-a-half millennia of human history. Slavery and American Deep South to the air raid shelters of wartime Britain. He demonstrates how the past has been manipulated, rewritten and reshaped. How it been re-crafted much after the event and while serving a different set of masters. Both democratic and dictatorship states suffer from it. It is done in the name of national moral and fight for the identity. And some time to correct the past or wipe it from public memory. Hijacked history creates a new perception that with time become a fact. And till then, the perception remains adulterated with reality. And we know, perception always wins.
THE CASE OF HIJACKED HISTORY- NORTH MACEDONIA.
In the last episode of 'Hijacked History', Dominic Sandbrook presents the case of 'Republic of North Macedonia'. The 'Republic of North Macedonia' not only stakes a claim to the name Macedonia but also tries hijacking the legacy of 'Alexander the great' from Greece Macedonia. To achieve this, they erect a large number of statues of who else but Alexander the great, construct new buildings with ancient Greek façade and rename streets. Sounds so much nearer home.
OUR ACCESS TO HISTORY
All of us access history more through the names of streets, stadium, stations and cities than the limited book we read on history. Much of our knowledge is comes from films, story-books, comics and now social posts based on history. When this corrupted new history is imprinted in the impressionable minds, generations grow up with a notion that in reality is fake or hijacked history.
No doubt, today when you talk to the young adults, their point of reference on Hindu mythology is Devdutt Patnaik, Anand Neelakantan and Amish Tripathi. For them, separating the fact from fiction is complicated. No doubt, a lot of what we know is based on lies or misrepresented history passed or thrust through generations.
WE MUST CORRECT HIJACKED HISTORY.
Nearer home, the textbook history has mainly been Mughal, British and Gandhi-centric. What is needed is Indianisation and Bharatisation not merely saffronisation. We must give just representation to regional and religious identity to reflect our national diversity. There is no point being myopic in renaming the streets, stations, airports or building statues of our glorified local heroes. We must be correct and inclusive, culturally and factually.
RENAMING IS NO SOLUTION. RELEARNING IS.
As a nation, we have been busy naming streets and stations. Mughalsarai Junction Railway Station became Deen Dayal Upadhyaya Junction. Aurangzeb Road in Delhi became A P J Abdul Kalam Road. Gurgaon became Gurugram. Mumbai ( Bombay), Bengaluru ( Bangalore), Kolkatta ( Calcutta), Prayagraj (Allahabad), Kanpur (Cawnpore) and Jabalpur (Jubblepore) are some of the examples.
Did it change anything? Nothing. Do people still call them by the earlier names? Yes. So, stop renaming and work to ensure that the correct history is shared for learning.
CONTROLLING PAST IS THE SEED OF CONTROLLING THE FUTURE.
Maybe George Orwell's is absolutely right when he said: "He who controls the past controls the future. He who controls the present controls the past".
It is easy to see the game politicians play with fragile impressionable minds. We must prevent bastardisation of history with such populistic moves. Because a change picturisation of history impacts everything that follows.
MEDIA TRIALS AS SINISTER AS FAKE HISTORY
Media trials on TV are almost as bad as reality shows. Sledging and trolling on social media is nothing short of an entirely skewed witch hunt. Both of them are powerful in shaping point of views and impacting memories. They are great in seeding polarised arguments in the mind of viewers.
In fact, no one is worried about the life that is getting ruined and stamped with perceptions. Something that they will never be able to wipe off irrespective of the final verdict. This high decibel cacophonic repeated shouting is crude but is highly successful.
We need to find a way to control it without blasting the right to freedom of expression and investigative journalism. Otherwise, it will again happen. And people will not be able to differentiate reality from propaganda.
FAKE NEWS TODAY IS EQUALLY DISASTROUS.
Fake news today is sharing fake narratives and impressing fragile imaginations with differentiated polarised ideologies. It is making them raise questions that do not exist. It is giving them a lopsided view through a tainted coverage. Laying the foundations of non-inclusiveness, gender and caste divide, religious and regional divide and hatred where none should exist. There is no way the audience can check all the fake news.
NEWSPAPERS FILTER AGAINST FAKE NEWS.
Every media platform wants to fight fake news, or so they claim. There are a few who are the propagator and super-spreaders of the fake narrative.
Newspapers too, have been shouting against the influx of fake news. Newspapers are also suspectable to fake news. However, the percentage of fake news in the newspaper is negligible or drastically less than any other media. Bias is a totally different story. They are still credible and trustworthy. And that is the reason that irrespective of the media you get your news from, maybe it is time that you again subscribed to a newspaper.