Sanjeev Kotnala: In the end, there is always a problem. And a consultant
12 Aug,2020
So let it be this oneThis is the second part of a series.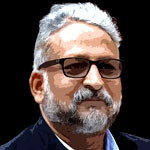 By Sanjeev Kotnala
The owner, Babujee Chuni Lal Sethana, was sitting on his chair with a high backrest, giving it a throne-like effect. He wore his original Rado watch with pride and had a Sheffer pen in his pocket. A pen he rarely used. The branding and marketing consultant, our dear Vermajee, faced him.
Vermajee surveyed rest of the screen tiled with the pictures of National Sales Head with his zonal flunkies and the marketing team on the zoom screen. He realised that the pretty young talent's mic and the video were off. Vermajee made a note of it. He must tell Babujee's to give the young talent all the freedom. We expect a young intern to contribute, that is the purpose of having them in the meeting. It was as simple as that. Or was it?
LOCKOUT BLUES
Babujee was shaken by the impact of lockdown impact. In his life, Babujee was known to build. Lockdown and Covid-19 were unprecedented events. The losses were mounting. There was no improvement in the cash flow situation. The earlier overdraft limit was already breached. Babujee was thinking of heavy discounting to release cash stuck in the system.
The marketing team was demanding budgets to invest in the market. They wanted to focus on products where the Brand still commanded a decent position and margin. The sales head was of the view that marketing investments were like fertiliser, helping growth. It was like seeds to the pigeons. It pulls customer in. The recent e-commerce sale has shown the degree of suppressed demand waiting to explode.
Babujee was not so sure.
Babujee asked Vermajee for his recommendation. Vermajee was also facing these difficult times for the first time and knew that whatever he said is going to be a punt. He will score a brilliant century or will be bowled out of his contract.
Babujee confided in Vermajee. That was reassuring. He said, 'the next generation is not at all interested in the family business. To them, the legacy means nothing. They have entrepreneurial DNA and want to do their own business. He does not understand their overnight ideas and business model. If only I would have known, I would not be working so hard'. Babujee added, 'I thought I was creating it all for them, and now all I hear is about some silly start-up they want me to fund. Not till I am alive… and I don't even know if they want me alivce'.
Vermajee was primarily a brand and marketing consultant. Ok, he was also innovation and creativity facilitator. But then he was not expected to have answers to everything. Babujee unnecessarily gets him involved. How Vermajee enjoyed contributing to a primed-up audience. But, this was completely different.
Vermajee felt like Krishna and looked at his Arjun, waiting for the discourse to begin in the Post-COVID-19 Mahabharat in the market place.
SO, THUS SAID VERNAJEE
'Poot Kaput toh ka dhaan sanchiye. Poot Sapoot toh ka Dhaan sanchiye'. 
Means, if the kids are brilliant and exceptional, what is the purpose of saving money, building an empire. They will create their own business and write their own destiny. And if they are not good, they will do is waste what has is created.
Every one of us has a responsibility to the future generation. But Babujee, you have built this empire and given seed money to them, so that they can put their business model to test. You have also categorically said there this business may not be available for them to come back to, in case they fail. I know, you never agreed to have a Plan B, a backup. You know, if they have this backup, they will definitely fail in the market. I hope they don't. I also consult them, and I think they are on a good wicket.
Babujee why have you lost heart. This is part of life, a part of the business. Things happen, and you know it, you have seen it all while building this empire from this small town. Maybe, right now things are bad. But, you have always said, business comes full circle. Have you forgotten what you started with? The risks you took and the confidence you had. Just your dreams, a few thousand in hand. These kids are your grand-daughters. Let them have a go.
WE ARE INTERDEPENDENT
What you have today is your creation. People helped. I helped, but the decision was always yours. This is your dharma, your niyeti. Your destiny. Yes, you can leave everything and lead a life full of comfort. The business will easily pay-out enough for a dignified life. However, you will lose your peace. I know. You have to keep working.
You have two wives. This business and your wife. And you have been a great family man, you have managed both. The business was always like the girlfriend you never had. Demanding,
Remember, even in the lockout, people were searching for your Brand. They tried what they felt were clearly the potential replacement. Trust got challenged and tested, but nothing that cannot be quickly rebuilt. People, fortunately, have short memories.
You stopped all marketing initiatives, and that a wrong decision to make. I understand, funds needed to be prioritised. Now, you agree that the comeback would be better if we had remained in contact with the audience. We would have stood for them and their changing needs. WE needed to be the Sonu Sood of business
The customers trust the products you offer. There is a symbiotic relationship of interdependence. They look forward to your name on it, and that is enough for them. Mere 120 days cannot just wipe out the association of decades. We will prime the market.
You have no right to deprive them of the Brand they have grown with. A brand they look forward to. The Brand that is the legacy all about. You must follow and trust in God. Everything is of importance, and nothing goes waste.
karmaṇy-evādhikāras te mā phaleṣhu kadāchana
mā karma-phala-hetur bhūr mā te saṅgo' stvakarmaṇi
(You have a right to perform your prescribed duties, but you are not entitled to the fruits of your actions. Never consider yourself to be the cause of the results of your activities, nor be attached to inaction.)
MANAGEMENT IS DECISION-MAKING
Management is nothing but choosing an alternative based on the currently available information. None of us can make the right decision all the time. You and I, all of us, make mistakes. As new and relevant data keeps coming, we are expected to be agile and tweak or change or strengthen the path we have taken. In the process, try controlling and ensuring the right perception in the mind of consumers. Afterall this perception adulterated with reality and filtered through their own biases is all that matters. Nothing has changed, nothing will change from the Kurukshetra of Mahabharat to the Mahabharat of the Market place. 
THERE ARE ALWAYS ALTERNATIVES.
You always have a decision to make. You still have alternatives.
No alternative is not Nirvana, it is the state of helplessness. You can decide to make the Brand a legacy that people will remember, until some better brand comes into the market, fulfils the newly redefined or the original gap. The life and legacy of the Brand is dependent upon the organisation you create and the market you operate in.
While you could be the Brand. You could be the idol. You could be the reference and referee for every decision you take. You could be your legacy that is remembered. At the end- remember- only the relevant Brand survives.
dehino' sminyathā dehe kaumāraṃ yauvanaṃ jarā।
tathā dehāntaraprāptirdhīrastatra na muhyati॥
It says boyhood, youth and old age come to the embodied Soul in this body. In the same manner, a wise man is not deluded with the attaining of another body. But it does not obey your dharma, and your dharma Babujee is to fight with your Brand in your Kurukshetra.
HOW I DO THAT. CAN I DO THAT?
These frames of confusion will remain. The doubts will remain. But, you must not allow them to stop yourself. Yes, Babujee. If someone can do it, then anyone can do it. But it is a process. It demands consistency and authenticity. It requires a clear objective as to what you want to be and why do you want to be that.
TELL ME, VERMAJEE
Well, that will be another assignment. Because at the end. Only the Brand Survives. In the end, there is always a problem & a consultant to simplify.
……………………………..
Vermajee closed the Zoom window, logs in the browser and orders two books on Gita and its learning. He looks at the mirror, smiles at his performance and them pours himself an extra-strong glass of his favourite poison. Post-Lockdown he needs it, and today he earned him. Vermajee remembers one of his guru; Martin Lindstrom, and reiterate's his pledge; My loyalties remain with the Brand. 
Sanjeev Kotnala is a Brand and Marketing consultant, an author and a compulsive doodler. He can be reached at S_kotnala on twitter.