Saif-Kareena and their water tank romance
21 Jul,2020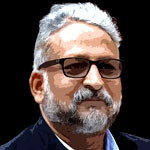 By Sanjeev Kotnala
Recently a new advertisement featuring Vectus and the power couple Saif Ali Khan and Kareena Kapoor was released. The theme was romance and the campaign line said: 'India ki waterline '.
You may not have heard of Vectus before, but now you have with all the talk surrounding this ad. Vectus is a fairly large brand with a range of products in polymer-based water storage and piping solutions. Headquartered at Noida, the brand caters to residential, commercial, industrial, infrastructure and agricultural sectors.
Vectus Industries Limited has three brands of water storage tanks. Ganga  and Waterwell with features like micro-ban (no smell), virgin raw material, no heavy metal use and threaded lid!
Vectus, the brand in focus with Saif Kareen Romance claims to be anti-microbial, free of heavy metal usage and made as per European standards.
The Vectus  earlier communication is about the importance of water and healing preventing leakage and seepage as the brand feature or purpose. These features and promise have not changed.
Kareena and Saif Ali Khan were announced as Vectus brand ambassadors in March 2020. It was the first time the brand was associating with celebrity. Fair to presume that the scripts were ready by that time. Rajesh Alagh, President-Sales & Marketing joined the group in April 2020. So one assumes he got the campaign in legacy and maybe is not part of the development.
There is a second Saif Kareena film titled Dance  and has light flirting between the couple. It is no longer available on the Facebook page. However, one can be accessed on Youtube.
Look at Instagram post. You see an unmasked crew in behind the scene which was well covered and reported. So, it is a pre-lockdown shoot. One more excuse goes down the drain. Picture from Bollywoodshaadis.com
Water Storage tank and pipes are primarily B2B category with a very regional bias. There is not much TV advertising. Digital media has opened a new window for the category to reach out to a broader audience.
This romance E film of Vectus has got a reaction that the brand was not expecting.
One tweet read, Zenith of advertising has been reached.
People questioned who wrote this? No clue. How this gets approved? Like all ads do, by the person funding making and release. Why did said Kareena agree? She has not shared the reason. They equated it end of advertising.
An industry senior tweeted, 'Once the celebrity fever enters on Industry, all brands jump in. Chappals to Banyan to Tank/pipes now!'. What's surprising? Are these categories not authorised to use a celebrity. Another in his style tweeted, 'Now we are really tanking in 'Chullu Bhar paani' I suppose.
They are right and wrong at the same time. These tweet experts have the right to an opinion, and most may agree with them. And I presume they must not have seen the two films.
Definitely, Vectus could have better used the celebrity couple.
Maybe the script could have been better.
The features of leakage and seepage prevention could have been told differently. Remember the MSEAL ads which were also about leakage and there instead of the MSEAL it could well be the pipe.
Or even SHEETAL tank ad tried making some sense with wordplay.
People presuppose that Vectus Saif Kareena is a client written and produced the film. See the second film, dance, and it does not seem so. But no agency has come forward to take the credit or the blame or to defend it.
Brands like Vectus do not have high exposure to advertising. They are small-town brands ( Vectus registered office- Gwalior), and they are trying to open up, dream big.
The water storage and piping category has brands which have in the past tried being creative. These brands are still evolving in their communication. Maybe the category is yet to see the real advantage of investing in advertising agencies and creative product then media. Or perhaps they are happy for having done something that was out of their reach. Maybe in the case of Vectus, this Saif-Kareena Romance and dance is creative enough.
Most of us did not make an excellent piece of creative the first time in our professional life.
We may not have done right in mathematics in our school. However, today we wonder why the fourth standard student is unable to do the simple maths.
Why should every advertisement from every brand be great? Be error-free? Why must they be evaluated on the same parameters? This Industry also follows the bell curve. There will be brands at the outer spectrum. We should not be worried and raise the alarm if the brands do something better every time. We should be encouraging and not laugh at the efforts.
The brands will learn with time and experience.
Yes, it will cost them money and efforts. But then, brands and owner-driven brands rarely gives consultant or the creative agencies complete freedom to start with. Maybe they will now listen to and hire better consultants with experience of working in owner-driven company culture. Perhaps they will re-evaluate three brand strategy against a mother brand and adapt if it fits with their future dreams.
WHY BLAME THE CLIENT?
On seeing an advertisement like the Saif-Kareena Vectus film, why do people presuppose it to be an advertisement written and produced by the client? Why do they think that some crazy agency is not responsible for it? Yes, finally the client is responsible, but the client acts basis the experience, expectation and the advice it gets.
CATEGORY CUES.
Sometimes actions are category -driven. The brands may see the use of celebrity as an easy way out. Or no other way out. Maybe such communication is usually a play for dealer distribution enhancement and confidence buildup.
Look at the other brand PLASTO work here.
And here is PLASTO  earlier work from before 2014. You see the change. Good or bad. Evolution part of any brand journey. Yes, they can look at professional help to reduce the mistakes.
And then there are brands which have been category leaders. Sintex is one such example. It originated sometime around the late eighties and joined forces with Mudra. Here is some of their work of. SINTEX WORLD RIVER DAY 2017. SYNTEX WATER STORAGE SOLUTIONS.
So, let us not be harsh and accept that in Industry, we will get creative of every nature. Yes, ultimately, the client gets the creative they deserve. They grow and evolve with experience and expectations. Let us hold hands and see how well we can contribute.
…………………………………………..
OTHERS ADS IN THE CATEGORY.
And then here are links to more ads.   Topline 5 Layer Tanks. Mangalam Water Tank.
……………………………………….
MORE ABOUT VECTUS.
In one of the videos, Vectus claims to be the world's largest manufacturer of Molded Water Tanks. In 2015, Latinia Limited, an affiliate of Creador II LLC invested Rs 100 crores (USD 16.7 million) for a minority stake. This stake as per shareholder pattern in 2018 was 21% in an otherwise privately held Vectus Industries Limited (Vectus) between Bahetie's and Ladha's.
Now the brand has been in the market for the last 20 years. In fact, it has a network of 4300 dealers and distributors, 13 manufacturing plant and 5 depots across the country; thus making it one of the leading and fastest-growing water storage and Piping system company of India.
Sanjeev Kotnala is a senior brand and marketing strategist and educator.  An IIM Ahmedabad alumnus, he has more than three decade of experience. He writes every Wednesday on MxMIndia, and sometimes on other days as well. His views here are personal.