Indrani Sen: The Refreshing Breeze from "Dakshin"
20 Jul,2020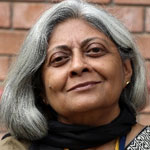 By Indrani Sen
The shadow of gloom cast by Covid-19 on our newspaper industry has not yet shifted and most of our newspapers are still struggling to revive their circulation, readership and revenue. During June and first half of July, I have come across very few articles on Indian print/ newspapers and all of them either had a negative connotation or provided  an advisory for revival of the sector. An article published in www.scroll.in  on June 25, 2020, related to the unique last mile delivery system of Indian newspapers, illustrates the negativity syndrome (https://scroll.in/article/964158/hard-times-after-the-lockdown-a-newspaper-vendor-in-mumbai-is-losing-clients-to-online-media) and an article published in www.policybazar.org on June 23 is an example of an advisory issued to the print industry at large (https://www.policycircle.org/economy/industry/change-or-perish-indian-newspapers-stare-at-a-crisis-of-their-own-making/).
The press release on TAM AdEx report published last week treated print and eadio like Corona-positive patients and avoided touching the trends in the AdEx.  Against such a backdrop, during this regime of Coronavirus, it was really refreshing to listen to the speakers of the webinar 'Go Dakshin: Print Emerging Stronger Post COVID 19 organised by Exchange4media on July 7, 2020. The webinar panel had representation of publishers covering all southern states and was ably moderated by Kishan Kumar Shyamalan, VP, Wavemakers. He began the webinar by commenting that print in South India is different in many ways for their counter parts in North, West and East India and requested the panellists to share their experiences during the lockdown and post lockdown.
KRP Reddy, Director Advertising & Sales, Sakshi Group opened the panel discussion admitting that they lost 25% circulation in urban areas during April after the lockdown, but in rural areas their circulation was not affected. After unlocking, they have recovered in smaller towns and now are working harder to regain their lost circulation in large cities. Suresh Balakrishna, Chief Revenue Officer, The Hindu Group, agreed by saying that Hindu is still under pressure in large towns. He reiterated that April was really bad. It was like "holding on to a hand break of a car coming to a screeching halt". In May, Hindu had revived 89% of its circulation in Tamil Nadu and Kerala and 75% in Andhra, Telengana and Karnataka. Balakrishna added that being relevant and being agile helped The Hindu Group to navigate this critical period successfully. The magazines Sportsstar and Frontline were converted to digital magazines during the lockdown and did not stop publishing.
Verghese Chandy, VP Marketing & Advertising Sales, Malayala Manoroma Group said they were better prepared to deal with the crisis after experiencing other health crisis and multiple floods in the past. In the early days of the pandemic, they managed to convince their people that hard copies of newspapers do not carry the virus and lost a very small percentage of their circulation during the lockdown. Circulation revenue helped Malayala Manoroma Group to survive when advertising dried up during the period of lockdown. Abhinav Khare, CEO, Asianet said that Kannada Prabha took a hit initially in April and had 18% de-growth, but started recovering from May and the trend is continuing in June. Eshwar N, CMO, Casagrand said he is one of the biggest spenders on Print in Tamil Nadu and Kerala and were one of the first to start advertising their real estate projects after lockdown. Their advertisements got a good response comparable with pre-Covid time.
In response to the question of the moderator Shyamalan "How can Print re-emerge now?" Balakrishna said 10 years ago, when the realisation began that digital is here to stay and Hindu began its digital journey, the pandemic has fast-tracked the process. The Hindu Group had collapsed its traditional and digital sales team into one seamless team and the editorial team had also evolved digitally. Their pricing policies had changed over the time and all their digital offerings were behind the pay wall by the time pandemic hit. The economics of the business had started changing for them and COVID 19 just fast tracked the transition. Reddy, however felt that traditional Print is still considered to be most credible and would continue to grow in next decade.
Chandy felt both the traditional and digital formats of newspapers will co-exist and grow for some time and readers can choose the format they like to read. He argued that the pandemic exposed the shallowness of the digital media and the legacy media re-emerged as the more trusted one. He gave a couple of post lockdown examples of readers' response to ads from the automobile and film industry in print to support his arguments.  Khare said traditional print would need to make their formats more interesting to attract younger readers who have started reading news digitally. Balakrishna gave the example of "Singapore Straight" and said that cover prices would increase and become hard and balance between advertising and circulation revenue would be restored. He argued that readers would gradually get used to paying for digital content. The webinar ended with the participants requesting advertising agencies to support Print during this period of Covid-19.