Lessons from the Lockdown
03 Jun,2020
By Sanjeev Kotnala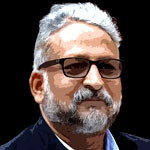 Did you realise 'Work-for-home' is an integral part of the whole adventure called 'work-from-home! A few consultants, including me, have turned observers during the lockdown. It is our closest contact with real full-life. We have distilled real-life learnings and plan to exploit them in future webinars, workshops, panels and real-time coaching sessions. Who knows, there could be a book too.
BUSINESS IS STILL FLUID.
Lockdown is a continuum in adaptive learning. Brands are redefining their purpose-vision-functionality to be in alignment with the consumer's needs-wants-desires-aspirations-capabilities in a very fluid market with its own operation and logistic issues.
It's a minefield out there, and mindful marketing is expected to help. All are talking of adapting to the new normal!
The consumers are bartering for necessities with the most barterable commodity; cash.
What's so new about it? Nothing. Nothing Has Changed – Nothing Will change.
SOMETIMES EVEN 'WHY' NEED TO TAKE A BACK SEAT.
We may find out that 'Why' is over-rated against 'How & What'. Today, brands have to re-earn and re-establish Trust. Here, answering 'How' takes precedent. The logic instead of imagery wins. The mission- vision- cause and purpose may not be as important as timely accessibility-availability and affordability of a basic service.
The 'We-Mindset' which is celebrated as a realisation of interdependence may just be the mask consumer wears in social situations. However, the 'I-mindset' is what defines consumption and purchase- at least for some time.
Just act. Do not  waste time trying to connect the dots. The dots will get connected in hindsight.
On the other side, there are some lessons one can draw from this crisis.
THE UNNATURAL UNDERSTANDING OF WORK FROM HOME.
The real understanding of WFH is missing. The reality is different from the jokes, memes and the all-out stand-up comedy act. Don't be surprised if the birth-rates takes a hit.
There is the sword of survival hanging overhead. Where is the space in the family construct defined by more of constraints than a celebration of freedom?
Lockdown is not a waste. Observant masters have harvested brilliant life-changing management understanding from the confines of 2.5 BHK. They reaffirm; home and family is a corporate set-up. There is a boss, pseudo-democratic processes and ill-defined unsanctioned dictatorship. There you go.
NO ONE IS EXPERT.
Did you try cutting your hair? Were you okay with just trimming them? Or adventurous enough to try doing a style/cut? Most of us realised adventure is not good at every stage. If it is not in your domain- don't try to act like an expert. Hopefully, we have learnt the value of many activities we took for granted; like the barber and the house-help.
PERFECT PRACTICE WORKS.
Nothing is easy, and practice does not make you perfect. However, Well. With complete focus and dedicated efforts, one can even make the easy Kaju Katli, the complicated Jalebies or the finely balanced Momo's. Remember, it is the perfect practice that makes for acceptable perfection.
PERFECTION IS A MYTH.
Cooking is easy!. YouTube recipes, instant mixes, pre-packed pastes and mixtures. And then the penny dropped, cooking is not that easy. It should be left to experts. It takes repeated dedicated efforts in deep learning mode before something edible and worthy of appreciation is cooked. Perfection is a myth. It is always work-in-progress. Hence learn to live with imperfection.
CONSISTENCY IS JUST A PROBABILITY.
There is no guarantee of consistency in the next time. It is wise to listen to expert and their instruction. Coaches are best for the situation. Consistency comes from the same quality ingredients and an SOP with tolerance.
FAILURE IS A PART OF LIFE.
Well, no explanation is needed. The best-laid plans are no guarantee of success. You may want biryani, but it can end up anywhere in the spectrum of Pulao to Khichdi. Well, it happens.
Nothing wrong. With every attempt, you learn something new. It is okay if you don't repeat the mistakes.
Follow PARAM. Pause for a moment, Reflect on what happened, Absorb the learnings and move on. Go ahead and give another attempt to that finicky Gulab Jamun.
SOP EVOLVES WITH TIME.
So, you now know that dusting, cleaning and poocha must follow a particular order. In tea do you boil the milk and add tea leaves or boil the tea leaves and add milk! The onions are deep-fried or golden. Can the white dresses be washed with colour dresses?
They sound simplistic and wired, but the processes matter. Do not apply corporate operational knowledge for a possible higher efficiency. It will be suicidal.
Hopefully, you are a temporary intern in the WFH.
Do not try destabilising the processes that have evolved as a semi culture within the four walls.
X-FACTOR CALLED LUCK EXIST.
One cannot account for luck. The rasogulla burst in ghee and the homemade paneer is so soft. Things happen because they are destined to happen that way. Don't waste time analysing everything. Don't seek logic and rational Some things cannot be explained. That is what luck is all about.
PARETO IS EVERYWHERE.
Every meal teaches the need for detailing. 80% is all about preparation. Getting the right ingredients in the right quantity. Reading and understanding the recipe ( SOP) first to avoid mid-way surprises. Master the SOP before experimentation.
FREE IS RISKY.
Oh Zoom in and read the experiences. Meetings were hacked and hijacked. Unwarranted data and visuals flooded the screen. Nothing like it happened in the paid version. Once again telling you there is nothing called free lunch.
PRIORITISING IS AN INTEGRAL PART OF LIFE.
You cannot pay for everything that you need. You can't attend the Gyan loaded webinars. There is a content overload everywhere. Emails and social media is full of tempting customised invites.
Everything is not meant for you. You are not expected to consume all the content directed at you. You have to kill the temptation to click and register for everything coming your way. Prioritising is the only solution.
PEOPLE WHO MATTER DON'T MIND.
In this period of lockdown, the conversation happened over social media, phone calls and emails. Were you able to correctly read the pitch? Were you not surprised and in some places totally immune to comments? Somewhere you realised; People who matter don't mind and people who mind, don't really matter.
CLOSURE NEEDS TO BE COMPLETE.
If you close the meeting and step out the system, it might reconnect and transmit what you may want. So, once you finish something ( including the zoom or namaste meeting), you get out completely. You close the session. The closure is equally crucial in social and personal life.
FAMILY COMES FIRST.
Hopefully, you could find time and space to Re-Search inwards and enjoyed the family togetherness. Despite all the jokes, at the end of the day life's first and only priority is family. You are responsible and accountable for your happiness much before anyone else's happiness.
BRAND-I MATTERS.
You are the CEO of 'I-Incorporated' and your Brand-I. In an uncertain future, your Brand-i will play an integral and critical role. Remember, in life, in case of equal skill, talent and performance, what carries the day is the stakeholders and management perception. How are you branded matters!
BEING POSITIVELY SELFISH IS GOOD.
Did I confuse you? If you can take care of yourself and your close members. If you remain agile and healthy, then only you will be able to think and work towards societal benefit. Till then, be positively selfish. The change and protection have to start at the smallest unit – an individual.
ARMY STYLE WORKS.  
There is only one boss. You should never question the boss though you may suggest and hope the suggestion is bought. Wait for the right window and mood to present suggestions. Instant appreciation works far better.
BEING EXPERT IS NOT ALWAYS HELPFUL. 
Always remember never become an expert. Organisations hate to relieve experts of their responsibility. It may sometimes be better to hide expertise. Don't let the heads at home know how good filter coffee you make or how good pakodas you can make. Otherwise, you know what you will always be making.
The art is in making the team members expert. Give them experience. Delegate the task. And then the team members need for higher responsibility will automatically push you towards a very cushy senior managerial role.
Nothing Changes.
The work or the expectation. The need to work and family-life balance. The protection and the precautions. The working from home. Team efforts. At best, the approaches and the location, the tools and the levers change. However, even with the changes, they remain the same. Nothing has changed. Nothing will change.
YOU NEED A LEARNING ATTITUDE.
If you have a learning attitude and you are observant, your flexibility allows you the chance to adapt to the situation. Then nothing will ever be tough for you.
Be the student in life, it carries lesser risk than being a teacher. In case you did learn something more, do let me know. Maybe, due to my experience and expertise bias on the subject, I may have missed something elementary.