Past- and Future-Gazing with Neil George
01 Jul,2019
By Sanjeev Kotnala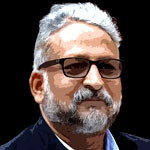 IAA's Retrospect and Prospects last week dealt with the CMO curiosity and desire to know. The need to know what next? To know of the next trend going to hit the market and communication. It is very human.
So instead of going to soothsayers, crystal ballgazers, experts, pundits and predictors to help read and connect the current and past dots, the India chapter of the International Advertising Association (IAA) went to Neil George, MD, Nivea (India and South Asia). On June 27, 2019, to a packed hall at Mumbai's ITC Grand Central, Neil presented the 'revenge of the client'.  Retrospect and Prospects from a CMO point of view. Not surprising, to help clear the fog, Neil banked on the last 18-month trends and the interpretation of his expert group from five continents.
Neil George's Five Important Observations.
1. Loss of Trust.
2. Pessimistic optimism. The pessimists are as many as optimist are there in the ecosystem.
3. The emergence of female superstars.
4. Growth of voice search (mainly pushed by Amazon Echo)
5. The new emerging platforms like  Instagram and Netflix are dominating the content space.
Retrospect And Prospects In A Different Way.
All of us would agree that today, the technology crossover is fast. However, this was a session in India with an audience that was not necessarily in sync with global needs. Still, the truth remains that few brands in India have the budget empowered CMOs and active management to operate and support the level of technology infusion and creativity used as reference points in Neil's presentation.
I personally would have appreciated if the presentation remained India-centric.
It is not about this session. It is true for every presentation in such forums. The speakers have a love for expressing the numbers in dollars, billion and millions. Keep them, but why not also state them in the Indian way of counting.  Why speakers can't take that extra pain in converting numbers and statistics.
Neil to make a point had to stress 2.4 billion with a "B not an M". Well it takes Indian mind a few seconds, but the connection is lost. What is wrong in saying 240 crores. Or that someone charges  5.25 crore instead of saying USD 750,000.
Anyway, everything is not lost. The presentation synthesised the trends and Neil's point-of-view beautifully. We may not agree with all of them and find fault with few. But this was his POV, and we should appreciate the speaker taking time in putting it all together.
Personally, just using few picked up examples of film clips and TVCs to support a point is a weak format. I would have loved to have Neil explaining and getting into details with arguments and counterarguments to make the point.
It is tough to get into each of the trends in detail in this article. This is for the lack of space, decreasing attention span and the author's inability to presents someone else's synthesised understanding. Trust me, such sessions are best absorbed first hand.
The Eight Trends by Neil George. Retrospect
Hope – Restored?  The question mark reflects the doubt Neil has. There is an attempt by various brands and audience that shows there is HOPE- everything is not lost. Watch the 'GULLY BOY' example used by Neil to make his point.
Trust – Regained?  Due to information democratisation, ease of message sharing and the fake vs real issue, the industry has lost trust. Not enough has been done in the area of regaining trust. Neil used the New York Times 'The Truth is worth it' and FCK ( KFC ) examples. But I share the brilliant Indian example he used to make the point; Samsonite- Kerala- we are open.
Real Stories. Romanticised. There is a trend for real stories being romanticised in movies and art.  I would ask you to see Gully Boys and URI. Neil used a reference of  Bruce Springsteen Broadway show.
Celebrities – They Have Become Brands And Stronger. Oh, they are the same people topping the chart on Instagram and Tweeter! Oh, "Cristiano Ronaldo has 2.5 billion likes from 700 posts in 2018, and he charges US$ 7,50,000 (i.e. INR 5.25 crore per Instagram post). Oh 'Girls Like You' featuring many female celebrities topped YouTube charts and has 2.2 billion views. It is the 25th most viewed and liked video ever on youtube. The argument may be valid, but the explanation and support were weak. Take the top of the pyramid representatives in any category, and you will get similar biased results.
Male Superheroes – RIP?  Only two movies in 2018 which featured real male superheroes topped the charts in 2018. Does that make 'real male superheroes' dead? Certainly not. And the question mark cleverly used by Neil comes to his rescue. He has said it and not said it. It's the famous Journalistic trick used by newspapers.
Creativity Twist- Revitalised.  The examples used of Taco Bell fries launch, every ad is a tide ad, and the Hidden flag are not sufficient to say,  creativity is now more powerfully used.
Production Values – Revival?  I liked his representation and comment on smaller production houses. I agree smaller production houses can produce great content. But is that a trend! I request the Industry to test the success-hungry craft passionate smaller production houses for content creation. Give in to Giving is an example and so is the famed Viva la Vulva, but again isolated famed cases cannot be used to generalised and taken as a trend. And really, there was no need for Neil in his presentation to introduce the Viva La Vulva communication- with some prelude- including 'Fastion your seat belt'. It spoke of some bias.
Machines – Are They Coming?. Oh, we all know they are coming.  Voice search (Amazon), IOT and Big data all are pointing towards machine facilitation if not dominance. I thought the question mark was not required in this case. Maybe it is there to question the positive use as demonstrated in the Pizza delivery in a jam and Revoice or the possible harmful use.
The Future. The Prospect.
Oh, here are somewhat apparent suspects and no surprise
Brands That Have Purpose-Driven Communication Will Succeed. I don't think so. I would just tweak it a bit to make it real. Brands That had Relevant True Purpose Driven Communication integrated with real consumer experience will succeed. That also means that many brands who are trying to connect the dots and trying to find a purpose that they can ride to purpose wave will fail. And If I were to bet, there would be more of failures on purpose led than successes.
A Rapid Increase In Data And Technology. All thanks to the rise in voice search. My take. Absolutely expected. True. And more lethargy will be built in. More conflict it will create.
Personalisation At Scale. My Take. I agree it will happen until there comes a time when the audience will rise to fiercely fight against deep customisation. When it will become snooping and a distraction. The mass appeal and addressing may not rise again, but communication, tribe creation and grouping – in other terms – Niche Segmentation – will once again make its mark.
Great storytelling will emerge to be stronger than before. I perfectly agree. Expected. With all the ease of execution with technology and platform, this will further become stringer. Emotions stirring will again be the forefront of triggering the audience reaction.
More On Future.
I like his quick but profound summation 'The future is about sinless consumption'. Neil shared the example of successful Meatless' Impossible Whopper', zero per cent beer does point to it. And maybe we are working toward a frame of reference where obesity, carbon positive and water wastage will be a real sin.
At the same time, I believe he missed touching on the fact that brands in their own wisdom will purposefully exploit the big data with hyper-personalisation. It will be the SINFUL BRAND CONNECTION AND COMMUNICATION, misusing of personal data and fragile permission marketing. This may give rise to an upsurge for privacy and data sharing. Newer protection models to be debated. And create a new battleground for the marketers to defend.
The Battles Of Future.
Neil mentioned two crucial battles that are important from the Advertising, Marketing and communication prospects. These are big battles where lines have already been drawn. Where the industry has started taking sides and has their favourite potential winners.
:: Entertainment battle. Netflix Vs Disney
:: Technology Battle. Amazon Vs Google
Overall I enjoyed the presentation. It was engrossing and engaging.
Sanjeev Kotnala is a senior strategy consultant and educator. He writes every Wednesday for MxMIndia, and sometimes – like this comment – when there's something topical. His views here are personal.