M&E in the Economic Survey
05 Jul,2019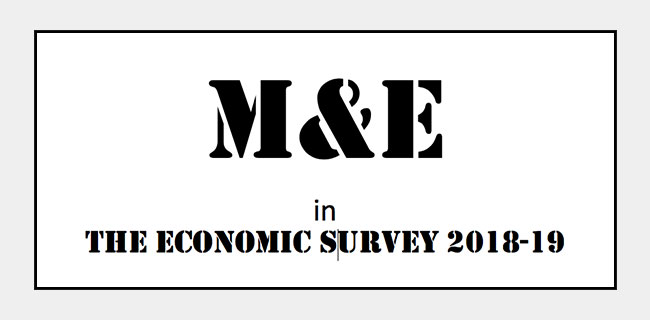 By A Correspondent
Leena Jaisani, Assistant Secretary General of the Federation of Indian Chambers of Commerce and Industry (FICCI) has reason to be elated. "Happy to let you know that due to FICCI's lobbying efforts ,Media & Entertainment in Economic Survey this year," she messaged us, adding: "Seven pages have been devoted to M&E sector this year from zero space in previous editions. Thankful to Mr Sanjeev Sanyal who promised to get this included when he came to frames and post that did several meetings with us to make this happen."
Let's look at what the Economic Survey presented on Thursday (July 4) says on our M&E sector.
9.22 The Indian Information Technology / Information Technology enabled Services (IT/ ITeS) industry has contributed immensely in positioning the country as a preferred investment destination amongst global investors and creating huge job opportunities in India, as well as in the USA, Europe and other parts of the world. USA, UK and EU account for ~ 90 per cent of the total IT-ITeS exports. However, there are new challenges surfacing in these traditional geographies. Demand from APAC, Latin America and Middle East Asia is growing and new opportunities are emerging for expanding in continental Europe, Japan, China and Africa. Efforts are being made to further strengthen existing markets, and simultaneously diversify and increase presence in the new and emerging markets in Europe (besides UK which is a mature market), Africa, South America, Israel, Australia, China and Japan through market development and industry repositioning initiative.
9.23 India's digital economy has received a tremendous boost through various Government initiatives such as Digital India covering e-Government services, common service centres, BPO promotion schemes, digital payments, electronic manufacturing, Digital Saksharta Abhiyaan, e-commerce, GST network, Make in India, Start-up India, e-health, Smart Cities, and e-agriculture market place/ digital mandis. These initiatives coupled with new and emerging technologies are enhancing the digital economy of the country and are creating IT and electronics led new opportunities for revenue and job creation in both traditional as well as new sectors of the economy such as transport, health, power, agriculture, and tourism.
9.24 The National Policy on Electronics 2019 (NPE 2019) has been notified on February 2019 by the Ministry of Electronics and Information Technology (MeitY) interalia include creating eco-system for globally competitive ESDM sector; promotion of electronic components manufacturing ecosystem; special package of incentives for mega projects; encouraging industry-led R&D and innovation and promoting start-up eco-system in all sub-sectors of electronics, including emerging technology areas such as 5G, IoT/ Sensors, artificial intelligence (AI), machine learning, augmented reality (AR) and virtual reality (VR), drones, robotics, additive manufacturing, gaming and entertainment, photonics, nano-based devices, medical electronics, defence and strategic electronics, automotive electronics, cyber security, power electronics and automation; providing incentives and support for skill development including reskilling, in the ESDM sector; promoting research, innovation and support to industry for green processes and sustainable e-waste management, emphasis on cyber security and promoting trusted electronics value chain initiatives to improve India's national cyber security profile etc.
Media & Entertainment Services
9.25 The Media and Entertainment sector comprises mainly of television, print, radio, films, music, digital advertising, over the top (OTT-film and television content delivered over internet), visual effects (VFX) and gaming. Technology has rapidly changed the profile of this sector especially in the area of content and carriage. As per the FICCIEY Media and Entertainment Report 2019, the size of the Industry has increased from `91,810 crore in 2013 to `1,67,500 crore in 2018, a growth of 82.44 per cent in the last 5 years. The size composition of the various components of the Industry can be seen in the Figure 5. Audio–visual services have been identified by the Government (2018) as one among the 12 Champion Service sectors for focused development so as to reap its full potential.
Private Television Sector
9.26 India is the second largest pay-TV market in the world after China. As per Broadcasting Audience Research Council of India (BARC)/EY estimates, out of the estimated 29.8 crore households in India, TV penetration reached 66 per cent in the country with 19.7 crore TV households in 2018, which is 7.7 per cent increase over the previous Broadcast India Survey 2016 (Figure 6). Of the 19.7 crore TV households, 10.3 crore households were covered by Cable services, 5.6 crore households by Direct to Home (DTH) services and 3.6 crore households were covered by Doordarshan Free Dish in 2018.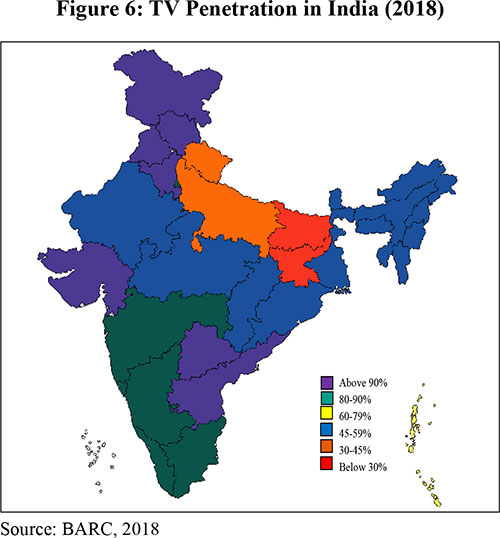 9.27 As per FICCI-EY Media & Entertainment Report (2019), TV sector grew at 12.1 per cent to reach `74,000 crore in 2018 with advertising comprising 41 per cent of the revenue while distribution accounted for the balance. India has at present a large broadcasting and distribution sector in the world comprising 906 satellite TV channels, 1469 Multi System Operators (MSO), 60,000 Local Cable Operators (LCO), 6 DTH operators and several IBTV service providers. 43 per cent of all private satellite channels are news channels (April 2019). The growth drivers for TV sector include digitisation of cable services, higher uptake of High Definition channels, growth of OTT platform aided by rising smart phone penetration and high speed data adoption.
9.28 In the distribution sector, Cable TV still dominates the distribution of TV channels in the country through MSOs and LCOs. DTH sector is rapidly becoming a key player in the distribution sector. Apart from Doordarshan's DD Free Dish, DTH services are provided by six other private players.
Public Service TV Broadcasting
9.29 Prasar Bharati is the country's public service broadcaster with All India Radio and Doordarshan as its two constituents. It came into existence in 1997 with a mandate to organise and conduct public broadcasting services to inform, educate and entertain the public and to ensure a balanced development of broadcasting in the country.
9.30 Doordarshan has the world's largest terrestrial broadcast facility with over 1400 terrestrial TV transmitters and also provides free to air DTH services. The terrestrial network of Doordarshan reaches out to every nook and corner with transmitters set up throughout the country. Currently, Doordarshan has 24 Satellite channels, including a channel for farmers, News and Current Affairs, Art and Culture and Sports etc. 67 Studio Centres of Doordarshan spread across the country provide extensive coverage of News and Current Affairs to DD network channels.
9.31 Doordarshan also operates its own Direct to Home platform viz., DD Free Dish. DD Free Dish has a bouquet of 104 television channels including 24 Satellite channels of DD which operate 24X7 and 11 regional channels which operate for a few specified hours. The bouquet also has 44 audio channels of AIR. Activities of All India Radio are discussed in the section under Radio sector.
Print Media
9.32 Print accounted for the second largest share of the Indian M&E industry with revenue of `30,550 crore in 2018 with a growth of 0.7 per cent (FICCI & EY Report 2019). Print Industry is declining all over the world primarily due to huge in roads of internet and TV channels in media industry. India is also no exception to this phenomenon. The share of advertising revenue in Print Media is 71 per cent of the total revenue income while the balance is accounted for subscription revenue. While newspapers accounted for about 96 per cent of the revenue, the rest was through the magazines.
9.33 As per the Registrar of Newspapers for India (RNI), the number of registered publications in the country as on 31st March 2018 stood at 1,18,239, registering a growth of 3 per cent in 2017-18 over the previous year. However, growth of circulation of publications contracted by 11.9 per cent in 2017-18 over the previous year. The total circulation of publications in the country during 2017-18 was 43 crore of which Hindi, English and Urdu publications were 19.56 crore, 5.34 crore and 2.52 crore respectively. In terms of circulation of daily newspapers, there was a contraction by 11.9 per cent in 2017-18 with total circulation of daily newspapers falling to 24.26 crore. Hindi dailies continue to be the largest in terms of circulation followed by English and Urdu. (As on March 31, 2018).
Films
9.34 As per FICCI-EY Media & Entertainment Report (2019), India is the world's biggest producer of films with 1,776 domestic film releases in 2018. Indian film industry grew at 12 per cent in 2018 with revenue of `17,450 thousand crore. The highest number of films were released in Kannada (243) followed by Hindi (238) and Telugu (237).
9.35 Despite producing the most number of movies in the world, India has less than 25 per cent of the number of screens as compared to China or USA. India has 9601 screens, of which 47 per cent are in the five southern states. China has been adding cinema screens at a CAGR of over 16 per cent over the last two years. India's screens per million of population is also the very low, primarily due to lack of cinema penetration in tier-II, tierIII and tier-IV markets in India. This presents a large untapped potential for the Indian film segment (Figure 7, 8 and 9).
9.36 In the Overseas Theatre Performances, the highest number of film exports were made to the Gulf region (50) followed by Australia (48) and USA/Canada (46). In terms of value, however, China became the largest international market for Indian film content, accounting for highest collection of US$272.3 million. While the number of screens (both single and multi-screen) have been steadily increasing, the screen count is still lower than large international markets.
Digital Media
9.37 The various segments of digital media include- online video viewing, audios, news through OTT platforms and social media etc. As per FICCI-EY Media & Entertainment Report (2019), total number of mobile subscribers stood at 1.17 billion in 2018. Smartphone users increased by 39 per cent to reach 340 million in 2018. Average data consumption doubled from 4 GB to 8 GB per month between 2017 and 2018. Moreover, digital media market grew 42 percent to reach `169 billion in 2018. Internet subscribers grew 28 per cent from 446 million in December 2017 to 570 million in November 2018, driven by rural internet subscriber growth of 49 per cent. Given that there are around 4 billion internet users in the world, one in eight is Indian (Table 9).
9.38 According to the total rate of content consumption on UC News Feed platform in India, Entertainment was the largest category in mobile content consumption for Indian users, accounting for 27.4 per cent, followed by sports (18.6 per cent) and lifestyle (13.8per cent) (Figure 10). 9.39 Social Media penetration reached 17 per cent in 2018, up from 11 per cent in 2015. The most active social media platforms were YouTube, Facebook, WhatsApp and Instagram. (Figure 11)
Radio Sector 9.40 All India Radio (AIR) broadcasts are functional at 479 locations covering nearly 92 per cent of the geographical area and 99.2 per cent of the population of the country. Presently, FM Service of AIR is being provided from 495 transmitters functional at 458 locations across the country reaching nearly 39 per cent of the area and 52 per cent of the total population of the country. Further expansion of AIR FM is being carried out in a phased manner under forthcoming schemes of AIR. In addition, 37 radio channels of AIR are available on Doordarshan's DTH platform (DD Free Dish) which can be received through a set top box all over the country. 9.41 The opening of private FM radio since 1999 has not only resulted in providing good quality of reception to radio listeners, but also helped encouraging local talent and generating employment to large number of people in various cities. As on May 2019, 380 Private FM channels are operational in 107 cities spread across 27 States and 3 Union Territories. The Government has announced policy guidelines on expansion of private FM Radio broadcasting (Phase-III) wherein the Ministry of Information and Broadcasting will auction 683 channels in 236 cities in subsequent batches. Community Radio Stations are set up with the involvement of various educational institutions and civil society organizations. At present, 250 Community Radio stations have been operationalized. It is proposed to establish at least one CRS in each district with priority to coastal districts and aspirational districts.
Emerging Media
9.42 As compared to the traditional media, it is the non-linear media comprising of digital media including OTT, animation & VFX, live events, online gaming, etc. that has been witnessing double digit growth in the media & entertainment sector in recent years. The spread of broadband connectivity, fall in data prices, demand for regional language content have triggered the growth of digital media. The Animation, VFX, gaming and comics sector in India is also a thriving business with even Hollywood movies being outsourced to India for work related to post-production which includes video editing, visual effects, animation, 2D-3D conversion, etc. It is one of the sunrise sectors for India and given the rapid expansion of the sector the requirement of skilled professionals is also immense.
Policy initiatives
9.43 The Media and Entertainment sector needs to be holistically reviewed in the light of technological interventions that have redefined entertainment today. The following initiatives have been taken in the recent years to facilitate Media and Entertainment industry.
• In view of increasing piracy of films by unauthorized recording of films in cinema halls, a Bill has been introduced in the Rajya Sabha in February 2019 to amend the Indian Cinematograph Act 1952. The Bill has since then referred to the Standing Committee on Information Technology for detailed examination.
• Audio–visual service has been identified by the Government as one among the 12 Champion Service sectors identified for focused development so as to reap its full potential. Ministry of Information & Broadcasting is proposing various incentives to promote audio-visual services. These include: Audio-visual co-production with foreign countries, incentives for shooting of foreign films in India, organization of global film summit and promotion of single screens in Tier II and Tier III cities.
• With the objective of imparting world class education in animation, gaming, visual effects and employment generation in the sector, Government of India is in the process of setting up National Centre of Excellence (NCOE) for Animation, Visual Effects, Gaming and Comics. Government of India has taken over the possession of land from Government of Maharashtra in March, 2018 at Goregaon, Mumbai. The project is being executed through Indian Institute of Mass Communication, New Delhi.
• As part of the initiative to encourage talent among youngsters of the North East in the sector of film and television, the Government of India has decided to establish a Film and Television Institute in Arunachal Pradesh. The project has been sanctioned at an estimated cost of `204.32 crore. Foundation stone for FTI, Arunachal Pradesh was laid in February 2019. A temporary campus has been set up in Itanagar where short courses have been conducted.
Space Services
9.44 Indian Space Programme contributes to National Development, through the application of space technology, comprising of earth observation, communication and navigation to address issues related to socioeconomic development from macro to micro levels. Over the last three decades, space technology has matured from providing simple mapping applications to development of complex models, decision support and early warning systems, incorporating space and derived inputs. Satellite launch services and satellite database mapping and Geospatial services are areas in which India is making a mark and has huge potential for the future. India has achieved significant milestones in space transportation capability through the operationalization of Polar Satellite Launch Vehicle (PSLV), Geosynchronous Satellite Launch Vehicle (GSLV) and Geosynchronous Satellite Launch Vehicle Mark III (GSLV Mk-III) for launching satellites for earth observation, communication, navigation and space exploration. India became the sixth nation to develop this highly coveted complex cryogenic rocket propulsion technology and also paved the way for the development of a high thrust Cryogenic engine & stage for the next generation launch vehicle i.e. GSLV Mk-III.
9.45 In the case of Satellite Launching, as on March 2019, PSLV had cumulatively launched 324 satellites that include 45 National Satellites, 10 student satellites built by Universities/Academic institutions and 269 International customer satellites from 32 Countries. PSLV also holds the distinction of launching the highest number of satellites, 104, in a single launch. GSLV Mk-III has successfully completed a suborbital experimental flight followed by two developmental flights. In its second developmental flight on November 14, 2018, GSLV Mk- III launched the heaviest satellite from Indian soil, GSAT-29, and has entered the operational phase. The first operational flight is slated to launch Chandrayaan-2 in 2019, which is India's second lunar mission and the first landing mission to the moon.
Bhuvan Services
9.46 ISRO's Bhuvan Geo-portal provides multi sensor, multi-platform and multi temporal Satellite Imagery, thematic maps and satellite data-derived information related to Earth Observation & Disaster Management Support. Since its launch in 2009, it has grown horizontally in diverse areas of applications, and vertically, in terms of number of images and thematic & disaster services including high-resolution satellite data. Presently, more than 6500 map services offered by Bhuvan are being used under various applications. Bhuvan has enriched portals of more than 20 Central Ministries/Departments and 30 States, and is also providing Geospatial support for many flagship programmes of the Government.
Mapping and Geospatial Services
9.47 Satellite data, synchronous with ground data, are used to estimate crop acreage inseason forecasting of production for 8 major crops in the country viz. wheat, rice (kharif & rabi), mustard, rabi sorghum, jute, winter potato, sugarcane, cotton in the country. Using the techniques developed by ISRO, the Mahalanobis National Crop Forecast Centre (under Ministry of Agriculture & Farmers Welfare) regularly generates crop forecasts at District/State/National level and provides to the Government for planning and decision making. Some of the major satellite data based mapping/Geospatial services developed include Horticulture Crop Inventory, Hydro-informatic products under National Hydrology Project (NHP), Village level Ground Water Prospects, Telegana and Andhra Pradesh Water Resources Information & Management Systems (TWRIS/APWRIMS), Watershed Monitoring under Integrated Watershed Management Programme (IWMP), Monitoring of progress of road construction under PMGSY, GIS implementation of MGNREGA (GeoMGNREGA), Inventory & site Management plans for heritage sites & monuments, Monitoring of stage of construction of benefeciary houses under Housing for All-Urban (PMAY), Geospatial database for Urban Master Plan formulation under AMRUT, etc.
9.48 Periodic assessment of state of natural resources like vegetation, land cover, snow & glaciar and wetland is also being carried out, in addition to national level assessment of status of wastelands and land degradation.