When it's Tough being a Man
12 Jun,2019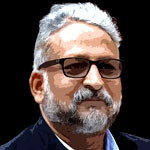 By Sanjeev Kotnala
Nowadays, it is becoming tough to be a man. And even Gillette is getting into the act.
I am into this simple brand-feature-benefit-transactional relationship with the multi-edged Gillette razor, when suddenly from every article on marketing communication and potential award list now has started questioning me.
Gillette Started The Battle Of Toxic Masculinity.
When on January 13, Gillette tried its toxic masculinity concept and was brave enough to accept that maybe it was wrong to project the kind of masculinity that they have a party to. And perhaps they have been inappropriate in their reflection and projection of not only men act against woman but the woman herself.  (The toxic masculinity advertisement has some 700,000-plus dislikes on YouTube). How right!
The brand told  you "We believe in the best in men: To say the right thing, to act the right way. Some already are in ways big and small. But some is not enough. Because the boys watching today will be the men of tomorrow" and I ask, who gave Gillette the right to contextualise and define what is wrong and what is right.
Surely, I have multiple sources to listen, read and follow then a razor brand sharing this purposeful new doctrine. Well, the brand, in a way, went on to almost stereotype all the men in one bucket.
All that from the fundamental insight 'I am not the bad guy, but I don't know how to be a great guy,'. Wow, is that advertising trying to be defining a cultural context. And which man does not know the difference between right and wrong, it's as much as can't and won't.
You are free to hold another point of view. That's Okay.
Is Gillette Advertising Really Purpose-Led.
I want a razor and not a lecture on morality.
Sincerely, I don't like drifting aimless advertising.
I thought that was international. And then suddenly we have this Spain Gillette asking you Are you man Enough?
The definition of masculinity and what really is a man has been shifting. You can ask the razor brand that is finding it difficult to add more edges to its multi-edge blades.
We have indeed been domesticated at home. We have been along with the daughters of the world lived through a generation of can't, don't and won't. It was always more about how to behave, and that meant more of what not to do.
We have grown with the idolised definition of what a man is or should be. Across the country, there are various definitions of masculinity.   Masculinity, revenge, honour, bravery, money, wishes and dreams were rolled into an undefined heterogeneous mix of directives.  Add virility, beard and performance into that list, and that's what we know.
Tear, fear and accepting defeat was never part of that definition. It's still not,  other than the time when on social media, one wants to be politically right. And now this silly hair-cutting tool manufacturing company believing research wants men in Spain to re-evaluate the stereotypes as it makes the real man feel uneasy.
The Complete Man Was Another Level Of Masculinity.
Raymond's 'The Complete Man' has been trying to tell us what is the construct of a perfect, complete man. It is non-intrusive and has been working. It never shouted or disturbed you with the question, Are you man Enough? And I am still talking of the earlier 'The Complete Man' series that was subtle and moderate by any standards.
Men Will Be Men Is Another Polarised Masculinity.
It is okay.  It is absolutely fine when we men laugh at ourselves. Look at the Imperial Blue 'Men will be Men' series. Don't they teach you and remind you of obnoxious silly behaviour. They tell you in many ways what's wrong or what's right. And we men knowing what's in it for us can take it easily. We don't need this sharp blade razor manufacturing brand to overtly threatening tone to ask 'Are you man enough?" or I will…
Gillette Disturbs Asking – Are You Man Enough?
Funny then for someone to ask "Are you man enough to admit you're afraid?" And in the Spanish version, it begs the viewers if they are man enough to be a queen? I don't think Gillette is thinking of asking such questions in India.
Every research points out that the new age consumers are looking for brands with a purpose. But this? Seems like someone searched for the purpose and then tried fitting in the brand.
I am not sure how easy or tough it was for the team at Proximity, Madrid, Spain to internalise this changing definition and shifting stereotypes before they made the client see their way.
Oh, it is different when the question gets mellowed down to a simple and more acceptable format. "Are you man enough to be you?" Now, you see, the communication is far too convoluted and complexly un-related with the brand.
It may be artistically exceptional and commercially well-produced. It may be superbly directed and well-executed. The truth remains that it is trying to be courageous in contextually correcting its earlier smooth shave gets you everything approach. It's good that the brand is trying to GLOCALISE the concept, as there will be a razor-sharp difference from well-executed to downright polarised failure.
The brand wants you to relate it to another simple fact that "It takes a real man" to do things, to be himself and do things that may not be right but a must. And this it thinks will add and facilitate an inclusive freer world. Help identify the new modern idealistic stereotype of contemporary man. Follow that changing expectation Gillette have moved from its own admissible toxic masculinity of "The Best that a man can get" to "The best men can be". Well, that for a change is definitely within the challenging new definition. Gillette seems to be man enough to express regret and change.
…………………..
Gillette May Not Affect Toxic Masculinity Or Help You Find the Answer- But It Will Win Awards
Why do I have a feeling that this long-term commitment to a right directional swipe by the brand is going to get a lot of awards: 'The Best that a brand can get'.
Do not forget, in Spain under this programme is a small scale prototyped 20,000 students connect programme by sociologist and psychologists. Additionally, there is that judges polarise Gillette Interactive teen chats focussing on real masculine values. There the teens will debate, reflect and surely realise (for the brand's benefit) that masculinity means a lot different. They will get rejuvenated and charged for breaking barriers that that stop them from being themselves.
Admit, Gillette Has Been Courageous In Their Act. Now They Need To Just Hold On To Their Belief. They may be saying it right and the way they want to say and shake up male thinking and stereotyping – but then I personally see a lot of gap between product-brand and the purpose. Hopefully I am not alone in it.
…………………………………………………….
DUREX STABS MEN.
Meanwhile, another Man's friend in need- DUREX CONDOMS tried starting a conversation under # OrgasmInequality. It is talking about a woman faking orgasm to satisfy the male performance ego.
You've heard the numbers, you've heard the women and you've heard the men. Now it's time we hear you! It's time to talk #OrgasmInequality and Fake Orgasms. Ask a question, tell us your story or just be part of the conversation with #IFakedItToo. pic.twitter.com/cxeZRHkA0N

— Durex India (@DurexIndia) May 31, 2019
Something that every man knows but is afraid to speak about.
The best friend Durex did not trade sides but reminded Man that lovemaking is all about mutual intimate pleasure.
Horrible brand, it is asking women to share their fake orgasm story under #FakedItToo. Even if they open about these stories to the man they are intimate with, it can hurt many dudes psychologically to the level of dysfunction.
It is different that in our country, not many women will share such stories even if it is  Swara Bhaskar and Pooja Bedi prompting them, but everyone would play their stories in mind. It did have an expected adverse playback from men. There was a lot of twitter debate about it. Yet, think the brand is still the winner.
Another brand making it tough to be a Man knowing that the females can really influence the choice. The brand knows that it is absolutely true in the case of condoms. A man will get what everything that gets him the action and boosts his ego. And anyway it is all about Durex Mutual Climax Condom- another pressure point..
This is confusing, as it is the case of "The best men can be" to "The Best that a man can get". I just hope people get what is being said above. I hope the stance and comments are not taken at face value.