Slice of Death Advertising
22 May,2019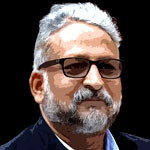 By Sanjeev Kotnala
The only sure thing in life is death. Rest is just a probability.
We appreciated 'Slice of life' (SOL) advertising, however, we rarely see brands leveraging 'Slice of Death' (SOD) imagery and references.
Death is all around us.
Death is all around us. It is there in the newspapers, in the TV news and serials, in social media, and is an integral dominant theme in video games. However, the use of death in advertising remain taboo.
Grief-exploitation is not my interest or focus of this piece. I am not referring to a few brands trying to get into a conversation during tragedy, calamities or death of a celebrity.
Death Beyond Insurance And Social Messaging.
Insurance brands flirt with death. Some social cause advertising like 'drunk driving', 'Anti-smoking' have  also explored the unchartered arena of death. But what about brand and services not directly liked with death. Do they leverage this certainty of life in their communication.
Can death trigger the right context for brand/product/ service usage?
Death is a simple phenomenon but a complex emotion. A certainty that we don't want to acknowledge. Its relevance as a shock and clutter breaker cannot be disputed. Unfortunately, it evokes  strong negative emotions, and hence, brands fear to associate with it.
Death is hardly aspirational. No one want's to die. Even on our birthdays, we celebrate the end of another fruitful year on planet earth. But, we hate if someone reminds us we have walked another year closer to the end.
Death Exploitation Can Be Misinterpreted By Audience.
The ads by McDonald's ( Child Grief- the kid being told of dead father's liking for Filet-O-Fish ) and Nation-Wide ( Super Bowl-drowning kid- prevention of childhood accidents) in the US have faced adverse consumer reaction. If you carefully analyse, there was nothing wrong in them.
We know the consumers' purchase decision is more based on emotions than on information and features. We know death is a powerful stage and triggers extreme emotions. Yet, it remains an area of a no-go.
Humour In Death.
We have seen some of the brands cautiously using death to their advantage. Most of the time, it has been used as a scare but to make a point humorously. Remember the M-SEAL ad, where a drop of dripping water changes the will.
Here I must share the fantastic ANTI-SMOKING communication featuring Sunny Leone and titled Eleven Minutes. A beautiful way of delivering the message to its TG.
Even radio brand MIRCHI used the Ruddali concept and their engagement with death so powerfully.
On the other hand, the Lifebuoy soap hinted at young under-five mortality rate and how death can be avoided in its communication. Here death is central to the theme but has a brief reference that does not raise high adverse reaction.
Insurance Can't Avoid Death
On the insurance side, death is unavoidable. However, the way death can be used, dramatised and contextualised is the key to effective communication. Here are two examples.
Max Life Insurance used the fear of death in its communication. My mother hated this communication as the protagonist name is my name. I am not sure if the brand used the most prevalent regional nicknames in their language dubs. But this one worked.
Policy bazar has been flirting with death and eventuality of it, to push people to pick term insurance early. They have a dead man coming back to life for that short time and talk of term insurance or Yamraj getting angry at the person for not taking the term plan when he/she had the time.
BEAUTIFUL DEATH
There is no definitive answer to some of the basic questions. And as there is subjectivity and personal bias, there are no clear directions. Should a brand use death and its effect? Does shockvertising works? What is the right way to leverage death? Can death be the clutter-breaker?
Here is an example of flirting with death. This short digital film was not produced by the brand and its agency but is highly associated with its theme 'KEEP WALKING'. A simple story of two brothers visiting the places of common interest and togetherness for one last time.
And maybe this is incomplete without sharing yet another communication developed by the same team that did the 'Keep Walking' film. 'ABC of Death' is about being alive. And the reference is death. Life and death- after all are two sides of the same coin.
Metro Melbourne for their rail safety did what is now known as the most delightful horrible creation- a song telling people there are more similar almost as dumb ways to die as losing one's life by being unsafe near train tracks. Any time I discuss this particular creative, I am reminded of daily deaths in Mumbai Local. I am not sure why such a beautiful message has not been localised or inspired some such release in India.
DEATH IS NOT SO BAD.
Few research reports do suggest that elderly people react more adversely to the use of death in communication than youth. However, none of them tells us as to what is an appropriate way to reflect and contextualise?
And in this era of APP for everything, there is WeCroak. It is a simple app that reminds you of death five times a day. You download it from any of the play stores and make a payment to subscribe. Then it will message to remind you of death. And expect that such messages will help you to better contemplate life.
In our Brand-I workshop, we take on exercises where we consciously focus on the possibility and certainty of death as an integral part of life. We talk of death as a motivator for the delegates to realise how much time you have to achieve the long list of wishes you may have.
Death As Curative.
Death is such a strong negative that even the terminally ill patients and their families don't encourage discussion on the subject. As if ignoring it can push the inevitable. Last Laugh or Last Word for 'Indian Association Of Palliative Care' has taken death head-on and in the process raised awareness of Palliative care.
And here is a wonderful example where the elderly person fakes his own death to get the family together. Here is a perfect example of using such a potentially negative emotion during the festive period but leverage it contextually for a beautiful, powerful emotional takeaway.
So when you can and do celebrate life- why give death a step-brotherly treatment. It may give rise to strong emotions but rightly contextualised it can still be used by brands.
PS: I would like to know of some brand communication (other than Insurance and social messages) where the brand has flirted with death and its vignettes. Most cases I have seen, its primarily the male who dies, has some Indian brand used the death of the female in its communication? Do share at Facebook sanjeevkotnala and twitter S_kotnala