1980s imagery dominates 2019 Mothers' Day
15 May,2019
By Sanjeev Kotnala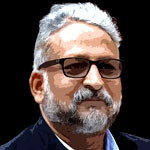 Every year on Mothers' Day, I get a sinking feeling that we are in a time warp. Or at least the Indian mother is has decided to drop anchor in 1980.
I love sharply defined relationships and even the vague unmanned relationships too. In India, we have many such relationships. The relationship between daughter-in-law and mother-in-law. The bhabhi-devar relationship. The jeeja–saali relationship. The guru-shishya relationship. However, nothing beats the well defined sacred bond between a mother and the child.
Mothers And Mothers' Day in Indian Advertising.
Mothers in Indian Advertising have failed to evolve out of the desperate emotionally volatile arena captured by Indian cinema. The sacrificial relationship with its predefined expectations and socially constraining coordinates still reflect the absolutely iconic expression 'Mere Pass Maa Hai'.
The imagery of self-less-love, a mother going out of her way, fighting all the odds, eyes with tear dams, will do anything for my child that defined the mother of 1980s still describes the mother in 2019.
The acts that made Farida Jalal, Lalita Pawar, Rakhee and Nirupa Roy imagery as the ultimate mother still dictates the overt expressions in the mother-child relationship.
Not that there has been a tectonic shift in the imagery and expectations of mothers. They still sacrifice their lives and ambitions for the future of their children. They still work like a superwoman. They are still seeking more empowered roles outside the home.
So, when brands think of celebrating Mothers' Day with some specific communication, they tend to remain chained to the overexposed mushy-mushy imagery. It is an easy way out.
Why don't these communications are more celebratory?
Why mother's day only has memories and situations aimed to bring tears to your eyes and make you feel emotionally drained?
Mothers' Day 2019 – Another Missed Opportunity.
The brands are missing opportunities and at the same time insulting motherhood. By continuing to live with the pre-historic imagery, we are saying to the mothers, you have failed to evolve. Your work scope, responsibilities and a multidimensional personality is yet to get registered in the blinkered mindspace of Indian families and society. And dear Moms, we the advertisers, can only digress that much. We can only mirror what we believe our audience will like and not necessarily what you as our audience may appreciate. It's business as usual.
CATCH THE 1970s MOTHER
So, catch the EPSON Mother, going out late in a rainy night to her neighbours. She is getting colour prints to help her daughter participate in a contest. Meanwhile, the WhatsApp-charged millennial daughter is only cribbing. You know the situation would have been easily managed if she had a printer at home.
Don't you forget the taste of food, that only mother can make. GITS has you covered with orphanage setting. Parleji is busy milking the old sentimental space of 'Mother knows without being told'.  And, yes, she is duty-bound to everything for her children. MOTHER'S RECIPE (Gift of Time) shares a hamper of its products to help create some time for her. There is nothing wrong. At least it is direct and relevant.
Some brands are still trying to ask, what does being a mother means? Motherhood is a phenomenon.  BIBA the apparel brand is trying to stand apart and tell you that we can be a mother in more ways than one. Shaadi.com is rightfully trying to push its own agenda and give a new flip to the relationship.
SUNFEAST tries something different. The brand explores an extended student's relationship with AMMA at the tea (or is it coffee) joint outside the college. It is at least interesting.
Then There Is Mothers' Day.
So, when I see HOPSCOTCH Mother RAP. The swag of a Mother proudly proclaiming to be the stylist for her children. I see it differently. It is fresh and full of brand relevance. It refuses to be clamped down by expected imagery.  There is a blatant, right in your face product promotion.  At the same time, it remains relevant to the occasion and sentiments. I love it. It statically lacks craft-style, and that is a plus. I will be impressed if it can get the Mother Rap to happen on TikTok too.
The Preganews gender-agnostic good news communication though 'hat ke', makes a relevant point.
Brands must Converse Throughout The Year.
If mothers are an integral part of your brand ecosystem, then the brand must remain in conversation with them throughout the year.
The audience knows when the brand is being cheeky in using the particular date and day to make a statement. The audience is no longer fooled by it.
Teri Maa Ki. Xhamster Joins The Call.
Meanwhile abroad, a PornSite xHamster is planning to ask the valued customers searching for MILF on its sight, to hold back for a second and call their mother. TERI MAA KI. MILF can wait for your mother can't.