Upclose view of a Loyalist
10 Apr,2019
By Sanjeev Kotnala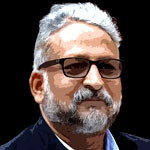 I was recently telling someone that I am one of the few who has attended every season of Goafest since inception.  I was stumped when she asked, what has changed and what should change at Goafest. Moreover, she wanted to know, why should someone attend Goafest? In spite of my being a loyalist, the questions pushed me rethink. It would have been different thing if Miss2016 was to ask me the same questions.
I have been part of Goafest in all possible avatars. As a delegate, sponsor, sisrupter, award-winner, jury and Ppress. Have witnessed it morph from the Special-Invitees-only-Conclave on Day One to a three-day festival where delegates have the choice of days they want to attend.
I felt the pain of few classical Goafest properties slowly vanishing from the festival radar. I remember the days when beer was freely available. I also remember the year when delegates were given coupons restricting the number of pints they could get, to now when with sporadic availability of beer.
There used to be stalls lining your way to the knowledge hangers on the beach. Now we have replaced them with technology activation ports in the corridor and lobby area.
The open-air after-parties on beach Cavelossim used to end early and continued in hotels, shacks, casinos and restaurants. Now they stretch to early mornings in closed halls.
I know the delegates enjoyed rain dance. It is no longer a part of the fest.
The knowledge seminars have moved out of humid hangers to air-conditioned halls. The knowledge seminar mix slowly morphing to spirituality, celebrities and authors, they say, everything swad anusar.
Goafest, Not Everything Has Changed.
Everything has not changed. Few things have retained their historical perspective.
The association with Goa and festivity has further strengthened without any efforts.  The ticket counters have the same standardised looks. You still have to come back to collect the conference kit.
Even with some large agencies deciding against participating in the awards, the enthusiasm and excitement along with the noise levels have not decreased. It's best to stop asking such questions of award participation and just celeblrate Abby.
The lucky draws along with other promotions have failed to increase visitors in the display area.
The core teams organising the event has remained wel-represented by dedicated industry people with very low infusion of fresh blood.
The delegate mix has moved towards smaller and digital agencies. However, marketers are still trying to find the answer to the big question; why attend Goafest? And while things were finding their coordinates in this flux, the media owners and brands continued to sponsor Goafest.
Changes, I Wish To See At Goafest.
This will not be the first time I am sharing my wishlist. I have been contributing my suggestions  through my blog and my column. I am thankful that few of them have even implemented.
I will start with time management. There have been tremendous efforts on this agenda. And the results are apparent. However, we have a long way to go.
I wish the organisers were stricter with the speaker's time slot. I wish they were blunt and if necessary rude enough to end the session if it was exceeding time limit. Personally, I will respect them more if they are bold enough to start the morning sessions irrespective of the attendance. Why should the delegates who wake up early so that they are on time for the session be penalised?
I wish Goafest introduce extra premium chairs and seat reservation for the session(s) or the day. I know many will be more than willing to check them out. May be introduce exclusive seating (with table) for the press to help them file their stories and cover the event better. If you do so, make sure there are enough seats.  More essential, ensure that these are occupied by media people accredited for the event and not people from media.
I wish that the moderators are better prepared for discussion with the speakers and don't sleepwalk through the proceeding. Someone trains the panelist on how to face the audience and not show them the shoulder.
I wish the questions-answer sessions are not cancelled because of the speaker over-running his or her schedule. And, if possible, the panel that selects the questions for the speaker does not know the identity of the persons raising the question. There have been some low-level mummers of selection panel bias.
If it's Goafest, add some local flavour in food, welcome kit, side tours, entertainment and games. Goafest hardly has any Goa in it, and everyone has to make his or her own efforts to add Goa to the festivity. So, don't be surprised that many continue to wear extra wide cane caps and floral shirts to the event.
It will be great if the speakers do not overtly plug their services. If possibly a team should vet the presentations before the session to see the delegates are getting their dues.
Hopefully, we will not have any speaker known to question advertising associations ethics and self-regulation. You know how touchy I am on this subject.
Why Attend Goafest?
Some questions should be left unanswered. Attending Goafest cannot have a logical answer. You like it, you attend Goafest. It's that simple.  It got nothing to do with Goa, beaches, Feni, parties and festivity. Goafest almost always met expectations and promised to deliver more. It is still evolving!
The jam-packed schedule of interesting knowledge sessions, the evening entertainment and the after parties at Grand Hyatt leave not much time for you to explore anything else. In fact, I will not be surprised if you think it was GrandHyattFest and not Goafest.
On the other hand, I can suggest that you attend Goafest for precisely five reasons:
(1) Knowledge seminars. And if you get just three seminars that work for you, you are done.
(2) Networking. It all depends upon you, how you work it out
(3) The After-parties. Best enjoyed with a group of friends and they go late at night
(4) Work Display. Go through the shortlisted entries. Maybe you will pick some idea subliminally, expand on it, improvise it and morph it into something even better.
(5) Relax and if you have an unfinished story– just wait for it to find its ending.