Sanjeev Kotnala: An Unfinished Story seeks a Happy Ending
03 Apr,2019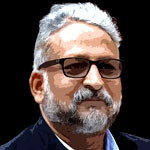 By Sanjeev Kotnala
Unfinished stories have an uncanny feeling to them. Expectations and imaginations play havoc with the sense of directions. They leave you starving for that last chapter that will wrap the things as per your thread.
So, I am going to share one such story seeking an end. There is no guarantee that the unfinished story will find the end it is seeking. And I am willing to live with it.
Unfinished Story; Part 1- 2016.
It is at 2 am., the last night of Goafest 2016. The after-hours party is in full swing at Grand Hyatt, Goa. I am a bit tipsy like every other night and was chatting with a few friends at the reception area. Then magic happened.
This young lady, who is short on cigarettes, asks me if she could borrow one. Young me, feeling alone in the crowd obliges. Who can refuse a young lady a cigarette?
We start talking. The conversation meanders across topics of interest.  And I don't remember what all we discussed that night. It must be the after-hours Vodka confusing the evening beer.
I never ask her name. And if she did share, I don't recall. I am sure; she too does not remember me. What I know is that she is working in digital space and planning to pursue an MBA from one of the IIMs.
All I have is a faint memory of a slightly tipsy lady in her mid-20s wearing a light-pastel-coloured dress sharing a smoke with me. She has a small dimple on her left cheek. Or was it the right cheek. Maybe my confused mind is making up images.
Unfinished Story; Part II- 2017
I am banking on Twitter. I send out a cryptic tweet. 'Dear young lady, if you are attending the Goafest this year too, do connect. And yes, you can find me around 1230, you know where'.
Few noble gentlemen support me by re-tweeting it. I have declared my intent on my blog and the weekly column on mxmindia.com. I am hoping for a miracle, for the message to reach the intended person. I think it will do the trick.
It is  'Mission Impossible'.
On the first night at Goafest 2017, I wait, and I wait. Nothing happens. Next day I tweet an update 'Woh Nahi Aayi'.
Unfinished Story; Twist In The Tale.
On Day 2, two cryptic emails land in my box.  Both emails suggest a meeting. I am confused. Is someone playing a prank on innocent Kotnala? I have no option. I have to follow the instructions and wait.
I am waiting at the designated area slowly sipping my beer. I lazily smoke while my eyes continue to scan the area for a clue.
Late night, I give up. I stroll down to my room.
As I am swiping the room key, my phone beeps with SMS notification.
There is a short SMS. 'Meet me tomorrow the same place. Do not reply or call. Have left for my hotel'. I check the number on 'True Caller'. It is in the name of some 'Priyanka'. There is another email with a similar message but a different name. I am in two minds. I decide to play along. There is nothing to lose.
At the designated hour, I move to the reception area. There is a PYT sitting at one corner. I hesitate. Meanwhile, she walks up to me and asks if she can borrow a cigarette.
To me, it is some sort of code. My eyes light up. I know she (Meeta) is not my Miss2016. We chat. I am feeling it is going to be a waste of time.
Unfinished Story, Abhi Baaki Hai Dost.
From the corner of my eyes, I catch another girl coming out of the party area. She stands next to the door and scans the arena. She approaches us and with superb confidence says, 'Finally, so do you have a smoke to spare'.
I smile and push the pack forward.
Priyanka, Meeta and I are meeting for the first time.
The girls were bored with the party and being with the same set of colleagues for the last two days. They were seeking a change. And they knew about the tweet. Both of them have independently sent me cryptic emails and SMSes. Surprisingly, I believe them and smile.
Last night, my focus and dedication to the cause impressed them. They have seen me waiting, smoking and drinking at the registration area. 'Aapki Talash Ke Fan Ho Gaye Hum' Priyanka had commented.
We end up in my room. I have enough stock of cigarettes and beer.
We finally call it a night at 2:30 a.m. they have an early flight to Mumbai.
Unfinished Story. My Belief.
I believe my original Miss2016 with the dimple on her left cheek did not attend Goafest 2017.
Unfinished Story. 2018.
Hope is a silly feeling. I again shared my expectations in 2018. But neither Miss2016 nor Priyanka or Meeta showed up.
Unfinished Story Still Seeking A Happy End In 2019.
Life cannot be so ruthless. Miss2016, you have to connect.
Come-on, connect with this person, who is young at heart. I am dying to know if Miss2016 has a dimple on the left or the right cheek.
Few of my friends (you know who you are) who were with me on that fateful night in 2016, tell me whatever you remember.
I was sitting low on the ground, looking at her, while she stood in a white dress. Wow, I remember this much. Vodka and beer combination is right for retrieving memories.
Do You Have A Story From Goafest?
If you have a story from Goafest or you want to just catch up, tweet at S_Kotnala or connect on Facebook. Miss2016, if you get to read this, do connect at Goafest or otherwise.
Unfinished Story. Disclaimer.
This is a true story but not necessarily the complete truth. The desire to meet again is sincere, god promise. The memories are hazy with time.
Come, prove Unfinished stories too have a happy ending. I am a very practical person. I can differentiate between fantasy and realistic fantasy and I believe 'Life is Perception adulterated with reality'. I am a winner either way. If I meet Miss 2016 so much better, but If I don't, I have my imagination to help me finish the story.