Goafest2019: What You Missed & What They Messed
16 Apr,2019
By Sanjeev Kotnala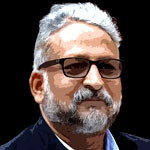 On Day 2 of Goafest2019, I tweeted 'This is best Goafest Day ever'. Few have asked me as to what made me say so? Honestly, it has nothing to do freely availability of cold beer, lovely breakfast at Grand Hyatt or that the unfinished story had a new beginning. I will answer it at the end of this article.
What was important was something entirely different.
BLURRING OF LINES AT GOAFEST2019.
Goafest2019 awards reflected reality. The lines defining the roles and expectations in the industry are blurring. The only relevant definition is being 'creative solution contributor to growth'. The pseudo-line of controls like digital, creative, craft, print, traditional are no longer relevant.
It surprises me when some industry stalwarts fails to recognise the new reality.
What is there to be shocked of, if a digital agency wins PR Agency of the Year, a digital agency is the Direct Marketing Agency of the Year and a TV station is the Creative Agency of the Year. If you look at the second row of awards, you will find more such surprises.
You can't limit the scope of any organisation by the charter and contract. The festival itself has moved away from a sharply focussed singularly stated theme (Like Brand Dharma) to a broader eclectic mix of sessions.
However, when Viacom18 won the top creative award, there was no point in rechristening it as 'Company of the Year'. The era of brand purpose and growth, instead of relooking at redefining who can enter or who is an agency or a company, we should move to purpose-agnostic 'Organisation' terminology.
MORE REAL WORK WINNING AT GOAFEST2019.
The scam quotient is under control. The awards juries have been phenomenal. More Real Work Is Winning, as said by Shashi Sinha, Chair, Awards Governing Council GoaFest2019.
The displaying of the Abby Shortlist for people to file objection seems to be working. I wish they displayed not just a list but also the complete entry. For example, how would anyone know what is the creative associated with 'Meri Doosri Country' campaign by Sony Ten 2's for the FIFA World Cup 2018, until it is accessible?
If the full entry is displayed at the Shortlist level, it will solve my second demand automatically. I have voiced it many times. At Goafest2019, I personally spoke with people managing the show. We must make available full winning entries for the public. It can quickly be done digitally.
It will help demonstrate that genuine creative is winning at the festival. And students and practitioners who could not make to Goafest2019 will have access to this precious information.
SCAM PREVENTION IS NOT JUST GOAFEST'S RESPONSIBILITY.
No awards body can control and check a scam winner. They rely on the client and the agency collectively signing an undertaking about creation, inspiration, originality and exposure.
If a scam does happen after this, we must look inwards and question our inaction. To stop scam winners, we have to act like a professional vigilance team. Just like citizen vigilance helps stop terrorism, only professional vigilance can stop scam entrants.
So, for a moment think about how you can contribute. Pledge that next time when anyone seeks help to stop such scams, you will find the time to raise objections if any.
KNOWING EVERYTHING DOES NOT COUNT.
Day 1- started with Dr A Velumani of Thyrocare shaking up delegates. Presenting his story of struggle and hardship, dedication, passion and nothing to lose approach.  Ravi Desai of Amazon followed it with '7 seminal shifts' in marketing.
I sat through Ravi's presentation with a bored expression. I know all this. What are you adding to my knowledge?
Later at night, I was discussing it with dear friend Sumit Roy of Univbrands, he questioned my reaction. I realised where my bias was creeping in. There is a huge gap between  'I know Vs. I think Vs. I act'. Our knowledge has changed, but behaviour has not seen a shift. There is a need for individual behavioural change and attitude re-referencing before we can expect industry level shift.
By the time we had Phil Kemish, Co-Founder, Disrupt Marketing and Brandtrepreneur, speaking about the four Ps (Purpose, People, Passion and Physical – bringing the brand to life) of marketing attitude. I was a different listener, a different delegate.
Once, you realise and want to bridge the gap between  'I know Vs. I think Vs. I act', your reaction as a delegate will change.
THINGS REDEFINED AT GOAFEST2019.
Overall, there is a tremendous change. We are getting better at time management. I still do not subscribe to Chairman or anyone extending any session. It happened during Unplugged and few knowledge sessions.
The shifting of live entertainment to just after lunch slot worked. It eased the pressure on the evening schedule. It helped in starting post-lunch sessions and the evening awards on time. It also ensured that in the after-party, there was enough time to serve drinks before the 1 am closure deadline.
The festival delegate average age is sharply falling. There is a shift towards smaller organisations and digital companies participating. Suddenly, it felt as if I was in some other industry do.
However, there is a significant change in the number of delegates visiting display areas. I am sure they are interested, but the tight schedule of sessions and awards leave no time. May be we can make them available on a pen drive as part of the festival kit. I am not sure how does this impact sponsorship, or it opens space for further activities.
One understands and appreciates the magical sponsor slot. However, it needs to be monitored and curated in terms of straight plugging and content. The way Google launched Google Creative was absolutely understandable and appreciated. However, everyone was not like Google. Some brands overtly pushed their agenda masquerading as knowledge.
GOAFEST2019. DAY-2. THE BEST DAY EVER.
The Day 2 had an absolutely fantastic set of speakers in the knowledge session. Madonna Badger opened the day with talking about 'Women are not objects'. She made her case with examples – Women are equal, but their objectification makes them less than equal. Gorden Bowen made a strong case for creativity. He pointed out the need to be Creativity Lead, data-driven and tech-supported way of working.  Barry Wacksman empathised on the need to be proactively being a disruptor.
Harshvardansinh Zala, Founder and CEO Aerobotics, topped this with an exciting session. He is just 16. His inspiring talk made the delegates look inward. It at least made me re-evaluate my journey. Lt Gen Hooda spoke of training and values defining the work ecosystem in armed forces. More than talking of the Uri attack, he sensitised delegates sitting in the comfort of an AC, the hardship frontline soldiers face at the border in extreme positions.
Cricketer Virender Sehwag batted all questions upping the run rate. Part of the leadership series, he differentiated three leadership styles with relatable examples. Saurav Ganguly; creating the team, Anil Kumble; setting the target and keeping focus, and MSD- getting work done by the team.
The only blip on Day 2 was Sidhant Chaturvedi and Kalki Koechlin talk. It went nowhere in spite of the interviewer Kubbra Sait trying her best. Jonita Gandhi's unplugged session was nice. She got the crowd involved and moving with her.
GOAFEST2019. CHANGE AND STRUGGLE THE NEW CONSTANTS.
Change is a constant. The struggle is another constant in life. Without it, even the change does not make sense. Struggle in life happens at multiple fronts. In a multi-dimensional festival like GoaFest, it's a churn towards the better.
This time round there was so much learning in what is loosely called celebrity slots. Harshwardansinh Zala, Lt Gen Hooda, Virender Sehwag, Pankaj Tripathi and Mary Kom. You could have them as entertainment and/or as an inspiration. The choice is yours. But do put your filter through the test of the filter of 'I know Vs. I think Vs. I act'
Unlike the Mumbai roads that are repaired just before the monsoon, I hope Goafest management committee will visit the challenges now, much in advance. And we will have a brilliant Goafest 2020 on 10-11-12 April, the second Thursday-Friday-Saturday of April.
TOMORROW: GOAFEST2020. Unsolicited advice to help make it better.
Sanjeev Kotnala is a senior marketing and strategy consultant. His columns appear on MxMIndia every Wednesday and on special occasions. The views here are personal