What made the IAA World Congress a Grand Success
25 Feb,2019
By Sanjeev Kotnala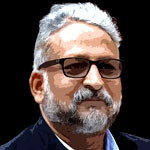 The IAA World Congress held at Lulu Bolgatty International Convention Centre (LBICC), Kochi from February 20 to 22 was a grand success. Â Most of the delegates I met were satisfied with the sessions, set-up and infrastructure.
Time to congratulate Srinivasan Swamy, Ramesh Narayan, Pradeep Guha, and the extended team of IAA India, sponsors, delegates and speakers.
The event will most probably be remembered for Sophia, Andre Agassi, may be Amitabh Bachchan and the grand parties in the evening. But, the session 'Tech Without Affect is the Death of Advertising' by Havas's Jacques Seguela will be remembered the most. Seguela, also author of "Don't tell my mother I'm in Advertising, She thinks I'm pianist in a Brothel", spoke on Day Two and received a genuine standing ovation. It was a class in presentation, idea delivery, stage coverage, voice modulation and connecting with the audience. Though it was tough following the Frenchman's English, there was no communication gap. In brief, remember your advertising should not be Brain-to-Heart or Heart-to-Brain, or Brain/heart –to-wallet but Heart-to-Heart. Have the idea and then leverage it with technology and not necessarily the other way around.
FINDING FAULTS IS ALWAYS EASY.
A Congress of this size with around 2000-plus delegates from a diverse sphere of the industry is like an Indian wedding. No matter what you do, there is always Dal Mein Namak Kum. Delays and minor issues over dramatised. Now, look at the positive side. You may forget the bride and bridegroom. However, such incidents become memory hubs.
It is natural for IAA World Congress not to meet everyone's expectations. Remember our ads and strategies also cater to the majority.  IAA World Congress ticked almost all boxes. Knowledge sessions followed the bell curve, so you got a spectrum covering the good, the bad and the ugly. Speaker sessions did not majorly overrun the allotted time.  The evening parties gave ample networking opportunities. The IAA World Congress app was helpful.  The area for question-answer and to jotting down your notes was appreciated. The three evening parties were engaging enough. There were hardly any technology glitches. The buses more or less maintained departure schedule from designated hotels.  The PR agency took good care of media in their movement, schedule, interviews and inputs. However, there was a visible absence of Marketers and brand owners.
 
FEEDBACK HELPS.
In case you attended the Congress, do share the experience. Constructive feedback will always help to narrow the gap between reality, and the myth perfection is.
Before you say I am biased, let me be clear, there were moments when you wondered what was happening. But, then, they are bound to happen in a three-day event and Indian Barat.
OVERALL IMPRESSION
Day One was slow, and even Amitabh Bachchan's speech did not help. The Congress warmed up on Day Two and finished on a high note with the Andre Agassi – Vijay Amritraj double volley and the Bollywood night. I am purposely avoiding any mention of the Deepika Padukone session which was the last session on Day Three, as it was going nowhere. I walked off the session, and so it is not first-hand experience. However, whoever, I met has the same expression.
There were two sessions where the speakers got a standing ovation. It was proof that the delegates were willing to appreciate when they were served something really fantastic. I do not include Piyush Pandey's session in it, as the ovation was more of respect for the perfect brand ambassador of Indian creativity and the creatives shown as part of his presentation…
The Andre Agassi- Vijay Amritraj session was a class on how to engage the audience, pace the conversation and to face the camera. Agassi was very transparent, open and emotional in his answers and it helped the cause. He was not hesitant to add tadka-wala statements that resonated with the audience.
 
SOME SUGGESTIONS.
I think that panel discussions could very well be done away with. Or we must be willing to give more time for the sessions. That reminds me: this Ted Talk-inspired 30-minuts sessions do not do justice to the speaker or the audience. Time to experiment with 45 minutes or even a 60-minute session.
I was surprised with few speakers (even in such global event) crib about the shortage of time as an excuse of them not being able to complete the session. It speaks more about the speaker than the organisers. And if something could be done to avoid blatant plugs by a few speakers, the audience will definitely appreciate.
Loved the media seating. They were provided table seating to help them in filing stories. However, non-media delegates occupied a few of the media seats. It required better monitoring and control.
As always, we could have done with more bar counters. That reminds me to add: with such a large gathering the number of live counters during evening parties were too few, adding to the wait.
I loved the small act of lucky draw for the audience who returned from breaks on time. May be a higher valued price would have done the trick.
 
IMPORTANT SHIFT.
IAA World Congress also shifted the focus from digital that was becoming a cacophony in every event to Artificial Intelligence, which is where the future lies. Maybe, it is easy to predict that we are going to hear a lot more about AI and IOT this year.
…………………………………………………….
PASSING THOUGHTS:
1. Since the IAA World Congress happened just 50 days before Goafest, will registrations there get impacted?
2. Surprised that most people I spoke with advised wait-and-watch the situation, before taking a call on attending or boycotting AdAsia 2019, that is scheduled to be held from December 2 to 5 Â in Lahore. Â WHAT DO YOU THINK? DO SHARE YOUR VIEWS ON THIS at editor@mxmindia.comwith the subject AdAsia2019.