How the Hardik & Rahul Ban Serves the Industry
16 Jan,2019
By Sanjeev Kotnala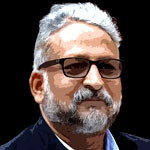 Pushed by the media pressure, I managed to watch the Hardik Pandya-K L Rahul episode of Koffee with Karan just before Star took it off from its OTT platform. It was just another episode but with a minor difference. The guests were young cricketers. Unlike Bollywood stars, not accustomed to avoid or fend profound, probing questions thrown at them by the gossip hunter rumour-loving anchors and journalists. They just went with the format and in an attempt to play the Casanova Cool Dude forgetting silence is golden at times. They forgot they had right to not answer or not say anything that could backfire.
Poor Hardik and Rahul fell for Karan Johar's questions. They said things that self-appointed media jurists did not like. Things that were not right to say in a public platform. Not expected from people of reputation. It is different that our politicians can make worse remarks and no one says anything. I know the operative word is 'profession of repute'.
Maybe they needed to fake till they make, just like the other celebrities.
People fuelling the media pressure would have loved a fake persona projected as per their expectation. Hardik and Rahul answering the questions on expected lines defined by the moral police would have been just right.
Maybe honesty is no more a virtue.
MILLENIALS THINK WE ARE MAKING A MOUNTAIN OUT OF A MOLEHILL
The young millennial of today thinks otherwise. Millenials do not pay attention to the armchair twitter moralists jury that is always wanting to insist on actions and reactions and at times unending unnecessary debate.
The young millennial believe it is an era of learning. It is an integral part of professional and personal life. Â If needed, give them a dressing down. Surely make them realise the enormity of the situation. Expect them to take the learning. Kill the episode and move forward.
Millennials agree everyone does not need to make a mistake to learn. One can learn from others' mistakes. Just like a lot of them will learn from Hardik and Rahul's mistake.
They are not a community of intolerants. They don't wait to pick, every cause-effect relationship. They don't like too many coordinates being fixed. They hate freedom being curbed, expectations being defined in strict tones and guidelines that make life seem like an army camp.
They do not want to be undifferentiated fake clones. They want to live life on their terms. They hate life where actions and reactions are pre-coded. What you say between friends or family on WhatsApp or Koffee With Karan. Where they are expected to operate within six-sigma tolerance. Where honesty, transparency, divergence and maybe creativity is being suppressed.
They appreciate the duality of life, the greyness of morality and life. The hate this recalibrated meters of sensitivity. Mistakes do happen.
Are we encouraging the life of deceit and dishonesty? Jab tak Pakda nahi gaya Chor nahi. Not a thief till caught.  So it's okay to be whatever within the closed doors but you dare not say it publically. You dare not expose yourself. You dare not be caught.
The media court has announced its verdict and found Hardik and Rahul guilty. The truth remains that each of the argument can be sliced, defended, re-examined and attacked. Even within the boundaries of accepting what they said was entirely wrong. In net, it all comes down to your personal belief.
SOME LEARNING AND GOOD FROM THE EPISODE.
CAN'T BLAME KARAN JOHAR
Karan Johar did what as the host of a show like Koffee With Karan was expected to do. He is media savvy and knew how his audience will react. He could have warned the young cricketers. He still went ahead. No issues. Most of the audience liked the show till the media raised its head questioning the answers. I don't think he will be more cautious next time unless the Network reframes its guidelines.
 
STAR TV CAUGHT NAPPING.
Hopefully, it's a case of SOP violation than lack of guidelines. It may just be a rare lethargic moment due to a false zone of comfort.  Believing Koffee with Karan will never do anything wrong. The Star network is technically and morally responsible. However, they will escape the backlash. Don't think anyone including I&B ministry is asking them questions.
 
BCCI IN SELF-CREATED CHAKRAVYUH.
Definitely they have failed to groom the new lads in the art and science of PR. They have not really read them the rulebook. Delayed confused reactions point out to lack of anticipation and policies on the subject. New contracts will be better drafted. Many still feel they are exceeding their brief.
Knowing that their statement, remark and association will in many ways define their Brand-I, cricketers have reacted as per expectation. They have distanced themselves from the two victims of blood rush. No one has even commented on the action.
The cricket-loving audience is polarised in their opinion. But, most are not really looking for a harsh penalty or suspension. The audience wants Hardik and Rahul back in the filed.
A good outcome is that HR heads across corporates are busy rewriting and updating their contract to reflect these new expectations.
 
HARDIK PANDYA AND RAHUL.
The young dude Hardik wanting to be honest transparent without an understanding with fame comes responsibility and accountability. Forgetting it is better to fake it – till the time you make it.
Think of what wonderful thing he has done. He has stripped morally before all. Now he walks with a neon sign over his head. Every woman knows what kind of person he is.
He has apologised. He said: "I would like to apologise to everyone concerned who I may have hurt in any way. Honestly, I got a bit carried away with the nature of the show. In no way did I mean to disrespect or hurt anyone's sentiments. Respect". Baccha hai- chance toh banta hai. He has learnt his lesson. An unconditional apology has been given.
K L Rahul seems to be an unfortunate victim. Really. Not objecting to the conversation shows him as supporting the discussion. He had the option to stop the show and react. Not majorly at fault.
VIEWERS OF KOFFEE WITH KARAN
I believe they lapped it up, enjoyed the episode not seeing the social tsunami unleashing. Channel delivers what the audience want. Truth is that the TRP will improve and loyal audience is not going to boycott the show. Conflicting learning.
 
THE BRANDS.
Brands cannot play favourites. Many celebrities like Tiger Woods, Sharon Stone, Whoopi Goldberg, Ray Rice, Manny Pacquiao, Lance Armstrong; Oscar Pistorius know the cost of such misconduct.
Brands have to protect their consumers and hence act according to their understanding of the consumer's expectations. Gillette has been the first one to drop Hardik. Other brands are yet to respond. However, I personally don't see more brands taking a harsh action.
THINK BEFORE YOU RECOMMEND.
It is wrong what the two cricketers did. But, we must ask a simple question. Is this not a simple lapse in judgment? Is it drug abuse or ball tampering or hurting someone?
Maybe it's the best thing that could've happened. The lesson has been learnt. An example has been made. Hardik, Rahul and Karan should now be counselled and let off with a warning?.
 
CLOSING REMARK.
As one of my friends puts it, Redemption, Repentance, apologetic remains, as the past should not define your future. Let's get on with the game. I know Hardik Pandya and K L Rahul will survive this fiasco. Just wish their tomorrow is better than today.
 
Woh Pahela Pathar Maare, Jisney Paap Na Kiya Ho, Joh Paapi Na Ho. Every saint is a sinner and every sinner a possible saint.