Sanjeev Kotnala: Are you too Guilty of Silence? #MeTooGuiltyOfSilence
09 Oct,2018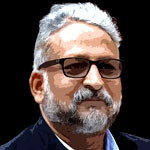 By Sanjeev Kotnala
Suddenly the unwelcome realisation has hit us. Social media is buzzing with it. Traditional media finally have found time for it. The malice of sexual harassment is beyond what we would like to imagine or believe.
#MeToo is gaining ground in India.
We see a start of #MeToo movement in India. Tanushree has finally once again voiced her experience. There are reports of named and unnamed women coming forward to corroborate or share their experiences. Â There is no surprise at the depth and width of this malice.
In the list of predators, we have judges, people of repute, comedians, directors, authors, editors and colleagues across the profession. It seems to cut across every profession. As per 2017 data reported in Mint, there is a rise in the number of companies in the BSE 100 universe reporting sexual harassment data over the years
#MeToo finds support and silence.
Very few like Hansal Mehta, Farhan Akhtar, Kangana Ranaut, Priyanka Chopra, Sonam Kapoor and Pooja Bhatt have come out in support. Many names that the citizens of the country look up to and who find the time and a point-of-view for smallest of the things have remained silent.
People understand the problem. They are willing to take the subject further. There seems to be no hesitation in their raising the voicing. But the expectation from the power and influence circle remains unfulfilled.
#MeToo volcanic eruption is waiting to happen.
The can of worms in the political space is yet to be opened. Â I will not be surprised if no #MeToo voices are not heard. There is a definitive case of inaction, silence and inherent acceptance of it as Hota Hai. It is a price many victims have accepted, and many have changed their career course.
Can Advertising Industry be untouched by # MeToo.
The advertising industry has been at the forefront of creating awareness and action against this malice. Â The industry has worked with the brands and messages. They have a strong body ASCI setting the agenda. Yet, a lack of #MeToo echo from here merely suggests that the victim has not been able to find enough courage and confidence in the ecosystem.
Sooner or later the voices will emerge. And at that stage, the stance and the action will speak for itself. How the industry decides to act will define how the behaviour gets modified. Meanwhile, it is time to look within and if there had been a lapse, acknowledge it.
No More Sorry
'We are Sorry', 'We failed to address it' are stupid shields of excuse.  AIB and Phantom Films is a classic example of this behaviour. Let, the corporate know that this is the time for them to come out in the open. If there are cases where their inaction and silence been overtly or covertly encouraging such behaviour or discouraging the victim. They must be transparent about it, now. The public will no longer accept a corporate waking up with apologies when they are exposed. #MeTooGuiltyOfSilence
Think of the affected party, the women. In work environment, she is forced to believe there is no escaping the jokes and conversations with sexual overtones. Many women create a shield of known people around themselves and stay away from such situations. It's constraining, but it is their way to survive in the system. Most decide not to raise an objection or report it. This is seen as a covert approval of actions and encouragement.
It is not that every act can and should be seen as sexual harassment. I personally think that some of the situations reported are trivialising the issue.  It is definitely sexual harassment if an objection is raised, feeling of discomfort is communicated or felt, if the predator fails to understand what does 'No' means and the action continues. Sexual harassment is not only physical. It can be verbal abuse or plain intimidation.
Stop Blaming The Victim.
In Indian situations and even the global environment, there is somewhat of chalta hai, it happens attitude. Everyone tries to see fault with the woman. They try to find the action or inaction of her that would/could/should have instigated and encouraged the man. There is victimisation of the victim. It ensures victim failing to muster the courage to report it to relevant bodies or in worst-case scenario the file an FIR with the police.
Unfortunately, the predator roams free. He gets an additional chip on his shoulder and confidence to mark the next victim.
If people cannot raise voice to stop and questions behaviour of the predator, how can they assume and expect the victim to have the courage to raise the alarm?
Sexual Harassment Is Not Always About Sex And Exploitation.
It is more about power and control. Gender inequality in power, freedom, pay and expectations creates an environment where it flourishes. It is not a question of Hollywood, Bollywood, MNCs or Indian Companies. Marketing, Advertising, Media and research. It is a myth that it is more prevalent in places where people work long hours in close proximity and/or where the gender divide is vast.
You Must Be Blind And Deaf Not To Seen or Heard a #MeToo incident.
#MeToo has shown us how common sexual harassment in the workplace is. No profession from films, sports, politics, medicine or even teaching is left untouched. It is logical to assume that there exist a considerable number of predators. And by inference, there are far too many who by inaction and silence encourages this behaviour. Â Sexual harassment feeds on this inaction.
It brings me back to my agenda, a one-on-one discussion with men. Â I here address men, however, trust me a lot many women may find themselves to be equally guilty of the act.
The change needs to happen within the society and primarily within the males. We need to be the example to next generation of male population so that they learn from our behaviour. Currently, it is not exemplary. And it's not a joke when someone says 'Beto ko padhao, Beto ko samjahao'.
Are You Man Enough To Say #MeTooGuiltyOfsilence Or #MeTooGuiltyOfInAction.
Do you have the guts to acknowledge your fault? In case you have consciously and unconsciously, knowingly or unknowingly supported or indulged in what could be considered now a sexually inappropriate behaviour in the workplace In case you have in the past covertly, overtly through your actions, inaction or silence failed to address apparent sexual harassment.
Then tweet with me. #MeTooGuiltyOfSilence or #MeTooGuiltyOfInAction and then take a pledge not to ever remain silent or through inaction give covert support to Sexual harassment.
Lucky One Can say #NotMe
In case you can cross your heart and with all honesty seriously and sincerely believe and conclude that you have never been a part of sexual harassment, exploitation or indirect encouragement of it, Tweet #NotMe. This is a serious evaluation. Use #NotMe if and only if you have never even closed your eyes and walked away from the scene because of inherent threat, chalta hai, harmless or 'does-not-affect-me' behaviour.
There is nothing wrong in 'Men will be Men' till it is not making someone consciously uncomfortable. It is neither a license nor a constraint or an excuse to laugh at.
Hopefully, we all are man enough to know, what constitutes an inappropriate behaviour that makes women uncomfortable in the workplace. So, question yourself. Have you ever knowingly or unknowingly contributed towards creating an environment that accepts and suggests attitudes and behaviours around sexuality?
Has your behaviour or silence helped propagate sexual harassment at the workplace? Then tweet #MeTooGuiltyOfSilence  or #MeTooGuiltyOfInAction or else tweet #NotMe
Share #MeTooGuiltyOfSilence or #MeTooGuiltyOfInAction or #NotMe after evaluating the behaviour
:: A behaviour that you know could be termed sexual harassment.
:: Have shared explicit sexual jokes in the presence of women without intent to make her feel uncomfortable but knew it was almost crossing the line.
:: Have used no-objection for such explicit jokes as a future license to engage in such behaviour.
:: Ogled at cleavages and other body area making them uncomfortable.
:: Remained silent knowing of sexual harassment.
:: Have suggested/hinted/recommended sexual favours as an offer/solution to any issue/problem?
:: Used position and power to feel, kiss, brush, press, caress, touch, dance or hold women against her wishes.
:: Used or encouraged the use women body to close the sale or a deal.
:: Suggested/commented on women character without any evidence.
Be honest in your thinking and intent. Share #MeTooGuiltyOfSilence or #MeTooGuiltyOfInAction or #NotMe after evaluating your behaviour.