Sanjeev Kotnala: Gutenberg Galaxy: The right intent, but…
26 Sep,2018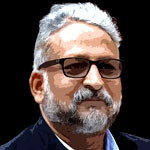 By Sanjeev Kotnala
In the last four years, IAA India Chapter has emerged as one of two most active industry bodies. It has some outstanding inclusive work to its credit. Each of the initiatives stands out for its intent and execution.
"The Gutenberg – A Book on Case Studies in Print Advertising" aims to make a statement that print surely works for many categories. The idea that germinated during a brainstorming session took the form of a book in nine months with 24 print-centric case studies, and 14 interesting articles is one such initiative. There were 2000 copies oriented.
I sincerely appreciate the effort and the intent behind it.  I am  biased as I failed to launch a similar initiative when I was with  Dainik Bhaskar.        Though the group did work on an  initiative like  MOSAIC– a collection of best of Print in India' for few editions.
I know the problems such projects face. The quality filters one start with, slowly become constraining. Political neutrality and egos come into consideration. The concept gets tweaked, and plans were redrawn to accommodate new thinking. However, one can't fault the intent.
The book "The Gutenberg Galaxy' focuses on the print media. Many young marketers and myopic media planners enamoured with screens of different sizes have prematurely written off and buried it many times. It not only survives but also thrives with growth in circulation and readership.
Fortunately, in media, life is never binary. It's never an either-or situation.  Traditional media along with new media will continue to grow for a long time. The technology change spurring the growth in digital will also affect the traditional media not necessarily in a negative way.
Print media has enough power to deliver beyond expectations. What it lacks is the existence of enough willing minds to see it in a new perspective. It needs collective thinking. If media agencies and the marketers involve print owners and custodians in the creative process, they will have brilliant results to show. Trust the media owners are waiting for such opportunities.
'The Gutenberg Galaxy' is wrongly tagged as a collector's item, a  coffee table book! May be, if it was conceptualised as a reference  book, the format and perhaps the content would have been curated  differently. However, I am not complaining.
I appreciate IAA presenting cases of 'Strategic use of print media as the leading media vehicle'. The team has made a serious attempt to push marketers, solution providers, creative and media agencies to re-evaluate their understanding of the medium.
Print suffers from a collective apathy of creative teams. It stopped being glamorous, exciting and buzzy. When the slide started, media owners failed to recognise the enormity of the situation. They refused to see it as their problem.
Forget the encouraging talk and statements made in the book. Today, the print industry stares at an exploding negative spiral triggered by ineffective print advertising.  It inevitably has been downgraded to sales, discount and offers. No one sees the potential and it possibly contributing to the brand building process.
Print industry needs to come together and collaborate. They need to see the future, not as my brand vs other brands but print as a media. The noticeable absence of large turnout of print media owners and professionals at the launch of Gutenberg Galaxy demonstrates it.
…………………
Does 'The Gutenberg Galaxy' represent the ultimate?
'The Gutenberg Galaxy' does not represent the best of print. There is some serious flaw in the process of collecting, curating and selecting of the featured case.
Each of the 14 articles by media, marketing and creative dons are interesting and appealing. They are what the audience seek, strong personal views. However, something is missing. May be I have far higher expectations from authored articles in a collector's item.
Article after article you get to read familiar thoughts. There are no surprises. The immediacy factor, focussed localised readership, high topical value, minimalism, smacking content, leverage print, the best medium for the call for action and content integration. Growing circulation on the back of increasing literacy. If you get a chance, do read 'This is the one story' by Santosh Padhi featured on pages 52 and 53.
An essential element that rightly gets repeated attention is the trustworthiness, believability and creditability of the media. Internally, we all know how much of it has been eroded in recent times. It is in the best interest of media owners to collectively address the issue, or there will be nothing left to fight for.
The over-dependence on advertising with stagnant cover price is an issue. It gets amplified when the reader fails to find rich engaging exclusive content. There are extra pages filled with not-so-relevant articles and news items tainted with biased, and skewed thinking is yet another problem. It adds to an unnatural pressure on the sales team and decreases the publication capability to say 'No' to unreasonable demands from advertisers and agencies.
Moreover, the print industry has been sticking to the old approach to spaceselling. The print owners have been least innovative in pricing strategies. They still expect an annual rate hike in a scenario where the marketers perceive decreasing effectiveness and returns for their investment. They have built around themselves the complex, confusing grid of non-transparent revenue models and differential pricing. Maybe they should seriously pay attention to what Sam Balsara wrote in his article published in the book (also carried on MxMIndia on September 24).
………………………….
Observations on 'The Gutenberg Galaxy'.
If one is serious about the initiative and wants to showcase the brilliant use of print, one must be a lot more ruthless in the filters used to select the content.
It is interesting to note the range of brand featured in the case studies. Agriculture: Mahindra Agri. Automobile: Tata Motors featured thrice with Nexon, Zest and Tiago. Banking: BOB, IDBI and SBI. Clothing: S.O.I.E and  Fuel. Confectionary: Mondelez. CSR:  Greenpeace Durables. Ion Exchange. Education: NPAT. FMCG: HUL featured thrice: Comfort, Dove and Rin. Media:- Two examples of 'Star Sports' with a very similar approach and Times Group Mobile: Huawei. Paints: Asian Paints. Real Estate: Kanakia. Others: Technical drying Services and Western Railways.
The Gutenberg team acknowledges there are many more cases that could have been a part of it. It is the first edition, and anyway, all could not have been accommodated. I am told that the project team reached out across the industry and followed it for six months without any bias. The filter used was the case must have a story to share!
More interesting is the list of participating agencies. Congratulations to Cornerstone Communication, Deadline Advertising, FCB Ulka (two works), Goldmine Advertising, Inter Publicity (two examples), Madison, McCann Worldgroup, Mindshare (five cases), Motivator, Ratan Batra, Ronak & Thinkers, Sai Advertising, Taproot, Starcom and Ventures Advertising.  I don't think I have to stress the point.
The articles by Ajay Kakar, Amar Jaleel,  Anupriya Acharya, Ashish Bhasin, Chandra P Dhobal, Lakshmi Narasimhan, Karthi Marshan, Nandini Dias, Ravindra Pai, Shashi Sinha, Santosh Padhy, S Narshiman and  Vikram Sakhuja are interesting. They appear in the same alphabetical order (interspersed with cases) in the book.
There is no link between the articles and the cases. It affects the experience.  However, what I miss most is lack of articles by an important stakeholder in the print ecosystem: the clients.
……………………………………………..
'The Gutenberg Galaxy' future.
I am informed that the next edition is planned for 2020. I think print needs such initiatives to be annual.
I hope whenever it comes out. It will be far richer, invasive and inclusive with global cases too. I hope it becomes Industry reference. For that to happen, the team must rethink format, content and distribution.
'The Gutenberg Galaxy' purpose that needs minor fine-tuning. The project team must be ruthlessly quality conscious in what finally makes to the next edition.
The real success is when the marketers ask their agencies, why their work failed to make to 'The Gutenberg Galaxy'.  Otherwise, we all know, what happens of coffee table books.
 
Sanjeev Kotnala is a senior management and strategy consultant and educator. The views here are personal