Bigg Boss 12: Hits, Misses, Blips
19 Sep,2018
By Sanjeev Kotnala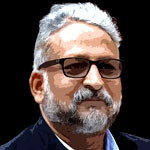 The much-awaited Bigg Boss12 is now on and facing the audience test. Colors has always been high on experimentation with concepts, props and tasks. The host Salman Khan on the opening night did what he does best, enhancing audience engagement, involvement and entertainment. I hope that Bigg Boss12 is going to be a lot more entertaining.
 
THE EXTENDED FRANCHISE OF BIGG BOSS
Bigg Boss post its inaugural night on November 3, 2006 has come a long way. The franchise now extends to Kannada, Bengali, Tamil, Telugu, Marathi and Malayalam. I see the show as classic glasshouse experimentation in human behaviour and endurance.
It's a magic pot with unpredictability in its core. It is like an extended amoebic family that keeps changing its definition and membership. Members that throw an open challenge on the face and keep scheming behind your back. The contestants are completely devoted to achieving of their ultimate objective. A will-do-anything for avoiding nomination or getting the captainship that comes with immunity and powers.  The constant chatter and natural bitching, fight. There is an irreversible irrevocable omnipresent loop of fight-makeup-friendship-offence-defence-fight. There are minor variations and lot more that going in the mind of loyal viewers. Romance and dictatorial democracy. Moreover, tasks are testing the contestant's mental and physical capabilities.
 
HIT
The channel has acceded to the unified audience demand of early telecast timing. The 9pm slot is going to add to audience interest and resultant viewership. However, the channel may be forced to drop some real spicy incidents and beep some words. Â For watching the uncut you have Voot.
Humans gyrate towards like minded others. In the pressure cooker called the Bigg Boss house, Jodi and at times even Tikri (threesome) has been on display in earlier seasons. So, Jodi or 'Vichitra Jodi' as the channel brands it, is a natural extension.
MISS
One noticeable miss was the representation of LGBT representative among the contestants after the Section 377 being decriminalised.  Calling them Vichitra Jodi would have been so politically incorrect. Not sure how it could have been handled.
 
BLIP
The not-so-humorous treatment doled out to Anup Jalota and Jasleen was not in good taste. It's also okay for people to say that once you sign for Bigg Boss, you are a mere contestant and should be expecting this treatment.
It's okay for the contestant to raise the issue inside the house, which they have already done. However, the Bigg Boss stage with Salman Khan should have remained neutral to the vichitrata of the age gap.
The other miss was the omnipresent never smiling Jallad. He is a brand in himself with a fan following. Hope we see him during the first weekend in his new avatar.
 
THE RELEVANT QUESTIONS.
Who will join Rahul Roy, Ashutosh Kaushik, Vindu Dara Singh, Shweta Tiwari, Juhi Parmar, Urvashi Dholakia, Gauahar Khan, Prince Narula, Manveer Gujjar and Shilpa Shinde as the next BiggBoss Winner?
Will Bigg Boss 12 break the earlier season records in popularity? The stage is all set. The spread of the contestant is bubbling with energy and ideas. The contestants are smart and determined with their strong views and idiosyncrasies. A bit more of celebrity content would have always helped. I believe this season is going to be a lot more entertaining and will gain from the 9pm slot.
 
THE EARLY PREDICTION.
Many may wish for him to win, but I don't see S Sreesanth ever surviving long. Urvashi Vani will have not much to play but a lot to play for in the show. The Fake Vs. Real people drama started on Day One will have many more takers and episodes in time to come.
I would be surprised if Shivashish – Saurabh, Roshmi – Mital, Sabha – Somi and Anup Jalota – Jasleen, Karanveer Bohra or Srishty Rode were to win. Jodies will not find it easy in the show, as expected by the public and the contestants themselves; Biggboss will play them against each other. However, Romil Choudhary – Nirmal Singh and Surbhi – Kirti seem to be two strong Jodies in the show.
Deepak Thakur, Dipika Kakar and Neha Pendse could be that surprise package. However, I have the right to change my mind at any phase of the show. Yeah to abhi trailer hai, picture abhi bahut baki hai mere dost.
 
THE COMMITMENT AND DREAM.
Out of some 1039 hours of the original telecast of the Hindi version, I would have watched at least 1000 hours, that's like 41 days of viewing. The most extended version has been Season 8 of 133 days with 29 contestants.
As of Season 11, approximately 185 contestants have been part of Bigg Boss spending more than 24 hours in the house, excluding the star guests.
I have been to the audition in Season 9 and regret not making it to the final. I blame it on my uninspiring, noncontroversial, unexciting and harmless life story. However, dreams do not die early. Anup Jalota has made it to the show with Jasleen, and so there is still hope for me. Give me at least 72 hours to test myself in that environment.
Till then I will manage with my yearly pilgrimage to the sets of Bigg Boss at Lonavala.
 
MISSED THE SHOW. GET ON VOOT.
Last night, I thought I could catch the show on Voot as my flight from Nagpur was at 2155 hrs. However, Voot does not carry live. When I checked it at 2340 Hrs on the way to home from the airport, I realised episodes are not loaded immediately after the telecast. Maybe this is something channel need to check for.
Sanjeev Kotnala is a senior marketing and strategy consultant and trainer. He writes on MxMIndia every week. The views here are personal.