Akshay Rocks Traffic On Studio Roads
23 Aug,2018
By Sanjeev Kotnala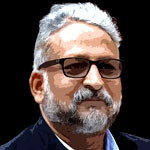 I saw the Akshay Kumar traffic cop communication ''Kyunki Sadak Kisi Ke Baap Ki Nahi hoti.' on road safety. The traffic cop with ironed spotless dress, nice newly painted road signs and the road where you could land a chopper.
I laughed at another 'Tide' advertisement and started thinking, where can I find such roads? Ok, more about it later.
It is a rare advertisement. An advertisement that is executed by a government department that makes you smile. It is simple and focussed.  This campaign by 'Ministry of Road Transport and Highways' featuring Akshay Kumar is sharply focussed on stopping people from breaking traffic rules.
However, It Seems Another Effort In Creative Satisfaction And Ticking The Box.
It is Road Safety Week, and we have managed to release a smart, focused 'road safety communication' that the masses like. Job well done.
The storyline is simple. Akshay Kumar plays a traffic cop. He catches people breaking traffic rules. Once he does that, he starts talking about their father and how well they have contributed to the nation or how well he knew them. When the person is confused on what is going on, Akshay points to the road sign and is surprised that the person on whom the road is named is not the father of the driver.
A simple question gets asked.   'Sadak tere baap ke nahi hai?'. When the road does not belong to your father, why break the rule.   The series talks of No-entry zone, talking on mobile and non-use of the helmet.
Earlier communication efforts by the ministry had Minister Nitin Gadkari providing data-based foundation to the road safety initiative. Now we have a strong creative expression, and hopefully, the government will support it with sufficient media exposure.
Expect No Change
Even then, I can bet, there will be no positive change in behaviour. We are like that only. We follow the rules because of fear, not logic. Remember the Ogilvy created Transgender Seat-Belt crew communication. It won many awards. It's different that we don't know what it has contributed to the cause. There has been no ground level visible change. Not that we expected it.
This traffic cop act of Akshay may remain a campaign that is appreciated because of its humour and the star cast. The government need to support it with visible dedicated rule enforcement on the ground. It may include licence cancellation, high monetary penalty or possible legal action.  It will be interesting if the government (as other clients) share the campaign goal beyond awareness and provide a measurement index for the same. Otherwise,   waste of my tax money is no laughing matter.
I know it is asking for too much. There is corruption in the police force. There is a lack of moral compulsion in public. There is a complete lack of implementing policy directives. Otherwise how come people keep driving without seatbelts and helmets?
It will only happen with a dedicated effort not only by the police but also the citizen. We need to stop waking up on Road Safety Weeks and ticking the boxes. There is a need to look beyond. SAAM DAAM DAND BHEDH. (Logic, price/value, penalty and differentiation) All must operate in sync to make the change. Maybe the passenger or the surrounding ecosystem is the lever that needs to work, to be the navigator and rein the rider blatantly breaking the rules?
Focus On One Habit At A Time.
Remember, in Mumbai, the drunk-driving campaign has worked in the past. There is a visible change in the number of cases and people behaviour. Remember how Swachh Bharat has changed the look and feel of some of the cities and railway platforms. It has to be a 360 degree (I am not too fond of this word- but use it for impact) – inclusive communication.
Focussing on one habit at a time may be right. Say, go after not-wearing the habit or speaking on mobile while driving. There is no reason to confuse the audience. Here the net takeout is light-hearted 'Sadak kyat ere baap ki hai', and the central message is lost.  It is a very North-India statement. I am sure that are similar statements in various languages.
Still, now that we have invested in this communication. What fun will be for the traffic cops to start the conversation with 'Sadak kyat ere baap ki hai'.
More Is Needed Than Just Akshay As A Cop.
Remember that 'Road safety is more about highway ( read any road) engineering and vehicle architecture than mere over-speeding and drunken driving.'   I agree with Praveen Chandra  Shetty (motor insurance surveyors and loss accessor) from Mangalore who is on a 2 month trip across India understanding the road safety status. ,
Road deaths are not caused only be people breaking the rules.  Every effort is a waste unless there is a marked improvement of infrastructure. The roads are worth driving. Malishka does not have to sing another Khadiyat song.  There are traffic lights where they must be, and they operate in sync with the speed limits. The road breakers break the ride, not the rider. The driving license is given after adequate evaluation of driver capability to drive not bribe.
Otherwise, in no time, the drivers will react differently to the question and tell the Government, 'Nahi, aisee sadak mera baap kabhi nahi banata.'
…………………………
Here are the other two ads in the AKSHAY- SADAK TERE BAAP KI series.