Wagh Bakri… a bit Lukewarm?
04 Jul,2018
By Sanjeev Kotnala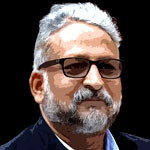 The latest Wagh Bakri DVC takes the theme 'Rishton Ki Garmahat'  to next level with 'Rishton Ka HI FEVER'. It introduces a granny who uses tea to settle an argument. She makes a point.
Is The Insight Laboured To Justify Brand Continuity?
The insight has been simplified to technology leading to shorter conversations. 'Pranam' and  'Namaskar' leading to 'Hello' to 'hey' and now to 'Hi'.  Further, the brand magically infers that that shortening to 'Hi' results in coldness in relationships.
I must take objection in the agency unnecessarily burdening technology enhancement and shortening of conversation with the blame of accentuating coldness in relationships. A stage we fail to appreciate the pure love of our near and dear ones  in our selfish, independent cocooned world.
It is a laboured point, and I will let it go.
Trust me, neither is the consumer privy to the very pleasuring BSM (Boardroom Strategic Masturbation) or PORAC 'Post-Rationalisation of Creative', nor interested in it.
Coming back to this Hi. It is acceptable and almost an undeniable truth that relationships are losing a bit of warmth.  The ever-increasing pressure of achievements, time and success is pushing people to redefine life that is independent, almost selfish with restricted socialisation.
Yes, I made that inference.
Lukewarm Garamahat
This first led Wagh Bakri to the well-accepted multiple-times-clicked 'Rishton Ki Garamahat' DVC in 2013.  It has a beautifully sung lyrical background song that accentuated the whole impression. I believe it worked for the brand. Otherwise, the client would not have commissioned a sequel in 2018.
As per the Scarecrow M&C Saatchi PR release, the research in 2017 pointed to similar inputs including shortening of conversations even in rural India. I understand that agency was quick to take cognisance of it and immediately branded the idea. We now know it as 'Hi Fever'.
As a storyline, the DVC has strongly established characters and coordinates that play along with the expected lines. Foreign-return Punjabi Munda. Small bylanes. An unnamed associate who is stuck in a small shop in an already crowded lane has a large heart. Munda ignores and the parents are apologetic of their grown-up son's behaviour.  They will always be blamed for it. The son meets Daadi (Grandmother), who now ignores him and his 'Hi'.  She is busy creating the single dose of magic potion that will convert her foreign-return-Hi-Shi-grandson with alienating behaviour to a sanskari munda. That magic potion is delivered with the category-brand connecting magic spell  "Hamare yahan rishte 'hi' se nahi chai se bante hain". (Everlasting relations are created over a cup of tea, not hi). And abracadabra behavioural metamorphosis takes place within seconds.
Not forgetting that we live in the same social cocoon where there is a severe shortage of characters to express our emotions, the brand suggests you use a simple hashtag #HiNahiChaiPilao.
Oh, by the way, the format is similar. There is a song with beautiful wordings that you have to pay attention to. "Rishton se na muh mod bande, rishte hain anmol. Nape-tule iss bol se bande rishton ko na tol". Do not shy away from relations, Relations are precious; Don't destroy relationships with trivial behaviour.
The same Wagh-Bakri Chai that got the husband-wife relationship rejuvenated in 2013 works across generation in 2018.
Having tried my best to poke fun at the creative and saying what I want to, I must confess I liked the DVC. It is a good example of storytelling and keeping the audience engaged with it. But as continuity comparison is unavoidable. Hi is a bit lukewarm.
 
Tea category is not so simple.
'Jago Rey' a category benefit amplified as a social service belongs to Tata Tea.  The musically uplifting melody established with Taj Tea. The kadak stationwaali chai with song and dance with Pathaka Chai and Society Tea trying 'The tea Society called India' a very generic expression.
So, this Wagh Bakri treatment and willingness to stick to the proposition definitely comes as freshness. Trust me the audience uncorrupted with all such ideas and discussion will mostly see it as entertaining, emotive and engaging. The brand is strongly associated with such execution and promise.
………………………………………..
Here are some more DVC's where you may have your own opinion about what it does to the brand. I personally find them good if not excellent. I know for sure that a large section of audience love them and the client buys into the theme and expression.
The message, category and the brand are woven beautifully in the story that holds attention. Where the audience associates and recalls it clearly with the brand.
 
We must stop creating these highly logical and rational boundaries around development and evaluation of the creative expression.
We want everything disruptive and out of the box.
Sometimes, it helps in working and maximising the returns within the box.