Sunny Side Up
18 Jul,2018
By Sanjeev Kotnala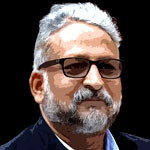 Let me be honest here. I love and appreciate Karenjit Kaur. Most of us know her as Sunny Leone.
She is again in the news. This time with the Zee5 web series 'Karenjit Kaur- The untold story of Sunny Leone', an eight-part biopic and the objection to using of 'Kaur' in the title.
It was bound to happen. Someone had to wake up late in life to object to it.
This time, it came from unexpected quarters. A whispering debate suddenly had all the potential to turn scary. Akali Dal and the Shiromani Gurdwara Parbandhak Committee (SGPC) have objected to the series using 'Kaur' in the title of the show. Their argument is simple: "She should not have been used the word 'Kaur' as it was her past and she had left it far behind and that her act has hurt Sikh sentiments as the word is considered very sacred in the faith and was blessed by the Guru." The guardians of the community never want a doubtful sleazy character like Sunny Leone to use it.
Sunny Leone has always been bold in her choices. She has never apologetic been about them. She remained true to herself and remained closely associated with the biopic. She stands by 'Karenjit Kaur: The Untold Story of Sunny Leone'. That's Guts.
She is the one who slapped the interviewer who said 'I do not want to disrespect a prostitute without knowing the circumstances'. But she comes straight and opens when she talks of similarity between a prostitute and a pornstar.
'Guts, it takes nerves of steel for the streetwalker to stand under the lights empty eyes and empty pockets and still look tempting enough to take home.  And it takes nerves of steel for the porn star to strip off her clothes and not strip her of her dignity.' Only a few can put it so vividly.
The story takes you on a journey of transformation of a young, simple girl Karenjit Kaur into sizzling Sunny Leone and then to a popular Bollywood star.
Not only the director of the show but also Subhash Chandra came to her defence. 'It may count for nothing, but I completely and strongly agree with them. How silly it will be, say, Karenjit Banerjee: The Untold Story of Sunny Leone'. Karenjit Kaur is her past, the foundation on which her present is built. They cannot be disassociated. It is in many ways a birthright of her.
No one objects when Joginder becomes Jimmy, Randhava becoming Randy and Mohinder becomes Micky. However, Karenjit Kaur becoming Sunny Leone is a different subject.
Sunny is a celebrity before she came to Indian screens.
She was one of the most searched Indian celebrities on Google. She was rated as one of the top baits used by malicious sites to trap innocents!  i.e. she made to the list of most dangerous celebrity. There is a generation still lapping her porn past with free access over the Internet. The porn start coming to BiggBoss was her one of the most calculated risk.
She then became a celebrity of a different time.
She like anyone of us is the result of all her choices and experiences. Some went good, and some were wrong. Some were circumstantial and some pre-planned.  And every choice was based on the foundation of past.
Sunny Leone exists because Karenjit Kaur exists. No way anyone can disassociate the two. And not using the name Kaur in the title changes nothing.
However, unlike many others, she is willing to stand by her life and the choices she made. She is conscious of what she is doing. I wholeheartedly admire her.
I am not surprised that no women empowerment group or so have voiced their support for her right to use the name.
There is fictionalisation in the web series. It is expected.  Dramatisation is essential for presenting anything on the screen. However, most of it seems to be genuinely a real story. Part of a story you want to believe. A transition we hardly much know about. Her past before BiggBoss we only guessed.
I was bowled over by her when she came into Bigg Boss.
I respected her for being part of 11 minutes and for standing against tobacco and Gutka. One can't say that for many of the male stars of Bollywood.
I applauded her in that interview where she put that silly interviewer in his position.
She openly exploited her image and desirability in the ManForce condoms advertisement. Hopefully, it has had the desired impact on the sale.
However, I know, her past and the name Karenjit Kaur will never leave her alone.
There is more reason to be proud of her than to be ashamed of.
The series director Aditya says: :I think the toughest part was Sunny playing herself. …. When she is on set, she needs to detach herself from her life. It was important that she played the role as an actor. For this, she had to see herself and her life from a bird's eye view. And trust me, it was really difficult." That's tough no doubt.
It's what GUTS is all about.  That's why Karenjit Kaur's has more right than anyone else to be Sunny Leone.