Another view by Sanjeev Kotnala: Sanju should win an Effie
03 Jul,2018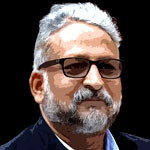 By Sanjeev Kotnala
Yes, I have a polarised view of 'Sanju' the movie.
You need polarised reaction while sharing a review. You like it or hate it. The middle path or diplomatic talk is of no use to your readers.
I loved the movie. And I can watch it again.
Raju Hirani has once again done the magic. Sanju is a smartly done emotionally charged film. There are some brilliant humour soaked scenes too.
Sanjay Dutt is not an easy subject to dramatise on screen. I love the tight, focused script by Hirani and Abhijat Joshi. They have managed far more than the time permits.
If at the end of the movie you are on the side of Sanjay Dutt. You think you understand his logic and reasons for what he did. You forgive him for his wrong judgment. You find him more vulnerable than yourself. You give him the benefit of the doubt. You love your Sanju Baba. While you are laughing or weeping with him, the movie in its first weekend does 120 Cr of business, breaking all records.
If It Was A Commissioned Project, Sanju will win an Effie!
It is a biopic. And the treatment at the very start settles the case. It is a story that the protagonist Sanjay Dutt is sharing with the writer for his biography. There is a clear, objective of presenting his side of the story. He wants no one to refer to him as a terrorist.
I understand people have a different take. It is the curse of deep familiarity and high expectation from a biopic on the original bad boy of Indian cinema. They felt cheated by a very focused narrative that had no space for many things in his life.
If every wrong decision made by Sanjay Dutt and its repercussions in the ecosystem is to be shown, you need a series of films. I am sure there is no scope for Sanju-II to cover what is left out of the movie. The audience misses references and masala of his other well-known affairs, marriages. They want to know how his actions affected the lives of his first daughter. Where was the Industry standing on the subject? Why are Kumar Gaurav, Namrata, Madhuri, Tina, Rhea, Richa, Mahesh Bhatt and many more absent from the narration?
The questions will remain. Hirani and Sanju may have all the answers they choose not to share. The audience should also grow up to realise that this is a biopic with big Cinematic Liberty license and not a documentary.
Superb All Round Performance And Excellence Narrative.
I always thought Ranbir is hugely talented. In Sanju, it is more than acting in the genes.  Ranbir has morphed into the character. He is inseparable. In some frames, you do a double-take. Not sure, if it is the original Sanju Baba or the actor. If you force yourself to catch a chink in his armour, the mask does slips in a few rare occasions of nano frames.
If Ranbir Kapoor does a great job of being Sanjay Dutt, watch Paresh Rawal (Sunil Dutt) give a masterclass in restrained acting. Paresh Rawal powerfully amplifies the pain, understanding and resolve in his character of Sunil Dutt.
Vicky Kaushal (Kamesh), the new Yorker Gujarati and a big fan of Nargis and Sunil Dutt. He is the best friend of Sanju. Kaushal has exceeded the demands of the character. He has been superb.
Not Ironically, Women Find Less Screen Time With Sanju In Sanju.
Manisha Koirala, as Nargis Dutt has her moment. The shot at the dining table when she is hiding her illness from her son and the scene in-flight while they are returning from treatment belongs to her.
Dia Mirza plays Maanyata Dutt, Sanjay's current wife. Sonam Kapoor plays Ruby, Sanjay Dutt's teenage first love/crush/ infatuation. They don't have much to do in the film. Anushka Sharma stands out in a short role as Winnie the writer entrusted to do the biography.
In the end, somewhere having seen him from his first movie to his jail days through the eyes of news, gossip & scandal reporting magazines, one does feel that on screen was a much-diluted version of Sanju Baba. Some times you think, you don't even know him. There in no scene is much of the fan adulation or the extra-hot-air that the Indian stars carry with them. It is a bit disturbing to miss.
Slapping The Media For Creating The Terrorist Image.
A honourable profession (my view) is so clinically subjected to generalised stereotyping of racy journalism, trash reporting, hiding behind unknown sources and rumours.
I am not surprised that unlike doctors, Rajputs and lawyers, the newspapers have decided to take the slaps without a mummer.  There is no media voice against the film's purposive demeaning of the media, without which 'I am not a terrorist' will fail to hold the audience emotionally. Maybe what they show is the reality.
I am not surprised that the director avoids showing any masthead with all the news supposed to be sensational, wrong, racy and without any support. The sharp business producer is sensitive. They realise that showing a brand name will jeopardies the situation. And the media happy for not being names.
So, people end up tapping their feet to the iterative scream of the Original (Sanjay Dutt) and the Actor ( Ranbir Kapoor) as the titles roll down: 'Baba Kehata hai, Aab Bus Kar' – Baba says let's stop, that is enough.
.