Goafest 2018 Review by Sanjeev Kotnala: Meets expectations, promises to be better
09 Apr,2018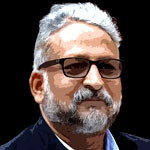 By Sanjeev Kotnala
The 13th edition of Goafest lived to its promise of being more productive and better than the last edition. There were visible, and determined efforts to make it a better experience. Goafest remains a work-in-progress with a promise of 'Best yet to come' – and I will take that.
This article is not a Goafest report card. Like earlier articles in 2017, 2016 or even 2015, it is more of  a reflection based on personal observations and feedback from other delegates. Hopefully there are some inputs to make the next edition even better.
WELCOME CHANGES IN ABBYs
Based on the detailed discussions with industry leaders and more importantly listening t the young professionals, in its 50th year, the Abby Awards made impactful changes in the structure and process.
The categories are rationalised from 250+ to 160-odd categories relevant to the current  industry ecosystem. Abby introduced the concept of 'Master Jury' across categories to ensure judging by the best in the field. And on popular demand, bringing back the often-hated and debated 'Agency of the Year' across the main categories in a far more transparent fashion.
ABSENTEES
I have been on record to say that we must not worry about who is not entering the awards. However, we must accept that other than the jury the competition also plays a definitive role in defining the awards. The absence of O&M, Lintas, Leo Burnett, JWT, Taproot, McCann, Creative Land Asia and Publicis does hurt the image and stature of Goafest. More so, there is not much left to damage when the absentee enters other awards.
THE KNOWLEDGE SESSIONS AND INDUSTRY CONCLAVE.
The industry conclave on Day One has retained only its name, and no longer serves the purpose.  Maybe we have realised that it is not the place to introspect and anyway we do not take any concrete action.
The content mix of Goafest is morphing with intent. There is a lot less of advertising and increase in other elements like music, sports, glamour, and politics, Bollywood etc. Though these are essential to give the fest a wider perspective and delegates some breather, they must be like salt in food and not the complete meal. It is a dangerous shift. Let's not blame the non-interest in advertising of delegates. Remember it's all about content.
Baba Ramdev, the natural performer, honestly played to the gallery.  He knows the pulse of the audience. His sense of humour and bold statements coming form success and confidence in the vision and purpose of the brand resonated with the audience.
Baba resold Patanjali as a value-driven organisation set for definitive future growth and glory. Patanjali as per Baba is leveraging honesty, dedication, purpose, knowledge, experience and emotions for wealth creation. The fight for Made-in-India and hence anti-MNC 'HUM MNC KO DHO DALENGEY' found favour with the audience. Baba further pumped the sentiments with explanation 'the blood in the veins is Indian, even when the majority of you all work with MNCs or have clients as MNCs'.
His act was far better than any stand-up comedy. To have the crowd engaged and involved for 90 minutes is an art in itself. Hats off to him. He ended his session with the expected and much-seen trademark tips on KAPALBHARATI and SURYA NAMASKAR. More on him on Wednesday.
Dean Donaldson and Jonathan Tavis of Kaleidoko made their presentation as a conversation. Like the Milton hypnosis language pattern, they laid the foundation with the known elements of digitalisation before unleashing the concept of Geno-targeting, Geno-segmenting and Geno-marketing based on the current understanding of DNA framework and genetic construct being predicting and defining similarities and differences in the global family. I am sure that it was a scope-expanding session for most of us.
Rapha Vasconellous representing Facebook CreativeShop  yet again at Goafest) made the similar pitch on people needing to follow the 70-20-10 principle of immediate- interactive and immersive content for any idea,  building communities, experimenting and doing things differently. The end – a pitch and presentation of Facebook – Blueprint the free learning platform was a repeat too.
Rosy Yakob, Co-founder GeniusSteals, pushed for collectivism in solution creation based on the argument that no solution today can be the result of a single person's efforts. And for us to create the environment of collectivism, we must have mutual admiration and appreciation, willingly share knowledge for all to benefit, embrace diversity and distribute credit and seek the wilds and weirdest.
Amelia Conway, directorm Adolescence, made a short but impactful presentation. Adolescence is based on a simple insight that only a teenager can best understand another teenager. The advertising fraternity attempts with the solution based on research and understanding are still what they want kids to want.  It does not come across as an honest attempt.
There were some other presentations too. Pepperfry presentation by Kashyap Vadapalli was a journey through the evolution of the brand. Cameron Worth of SharpEnd presented the possibilities and a picture of IoT, a world of connected devices.   Faye D'souza delivered a crisp and impressive presentation of Mirror Now delivering on the promise of 'You First'. Wain Choi, Chief Executive Officer at CJK-Valley in conversation with Rohit Ohri presented few cases and demonstrated that ideas and creativity are not dependent upon budgets.
PERSONALITIES
Too many sessions with non-advertising content make Goafest look less like an advertising festival.
Sparsh Shah*, the 14-year old teenager who uses a wheelchair made the audience emotional. Born with 40 fractures and doctor's gave him two days to survive. Today he is the face of differently abled people globally. His request of advertising community to be inclusive in their communication is a well-directed and timely reminder.
Jonty Rhodes is a much-loved cricketer and cricket is a religion in India. Anand Narasimhan of Times engaged him in a conversation started with the latest Australian  'Sandpaper gate' fiasco. Jonty was open in saying that most of the teams try to change the ball conditions within the acceptable behaviour but doing it the way Austrian team tried was pure stupidity.  The discussion on Choker tag for the South African team, politics within, his retirement world cup, ball tempering and leadership styles were engrossing.
Colonel Rajyavardhan Rathore: Politician, Olympian and an ex-army man walked out as the winner of the session with Times Now interviewing him. He was open and straightforward enough (as much possible). He well-defended Times Now's probing and incisive questions on Brand Modi (he likes referring to him as a phenomenon) and drop in the Lok Sabha seats with the bypolls. His conviction and explanation of Khelo India movement assured the audience of the government decisive initiative being productive in time to come.
Sidharth Malhotra*,  representing the youth brigade, passed the test of brand and marketing. The Bollywood charm and openness in his conversation worked in his favour. Sania Mirza* I am told was open, straight to point in her session. Her comment 'My name is Sania Mirza, and my children will be named Mirza Malik, not just Malik' found much favour with the audience.  Nawazuddin Siddiqui in conversation with Anu Kapoor was a waste. It had some pointers and a recap of his journey from a humble background to stardom.
PERFORMANCE
Usha Uthap's performance on the opening night of 50th edition of Abby's was an apt audience, occasion. It was also her 48th year in the singing career. She performed a day after the sad demise of her elder sister demonstrating her level of commitment and a lesson on professionalism.  While Baba knew the pulse, she knew the beats to mesmerising.
Neha Bhasin on the second day was equally bright and hardworking but somewhere the magic of the first night was missing. Towards the end of a long drawn performance though, she did get the crowd on her side.
Khusboo Grewal on Day Three had the audience jiving and fully involved by her energetic medley of songs. Her moving into the audience and interacting with them made the performance that more engaged.
AWARD FUNCTIONS AND EXHIBITIONS
Well done on this front. Other than a few minor glitches, they were well-conducted. The 'Master Jury' did return few categories with no metal, which may be discouraging to some but good for the fest in being stringent in their evaluation. It was nice to see Publisher's Abby sandwiched between Usha Uthap performance and the Media Abbys giving them a bigger audience.
The Exhibition display area had a repetitive display of work across categories. May be we could experiment with mounting one integrated display for such entries and list the sub-categories it has qualified as a finalist.
Awards must not go beyond 10pm even if we are forced to start a bit early and compromise on knowledge sessions. If I were a sponsor of the after-events party, I would want a penalty clause for delay in awards closure.
DELEGATE RESPONSIBILITIES
Being on time is as much delegate's responsibility as it is of the organisers. The opening morning session, the post-lunch session and awards delayed start were primarily due to delegates entering or returning at their own pace. The organising committee made every attempt and would have been more successful in managing time with delegates support.
Treat it as your festival and hence give equal recognition, appreciation and respect to the other awardwinners. Do not walk out of the hall after winning or if the category you represent is awarded. Or may be it's time for Goafest to keep doors closed until the end of the function.
WORKSHOPS
I have heard good feedback on both 'Facebook' And 'Mindscapes ' workshops at Goafest, and we should look at increasing the number of workshops in the coming years.
PARTING SHOT.
Last week, I shared an unfinished tale from Goafest 2017, and expected the story to move forward in 2018. Sorry to disappoint, but there was no twist in the tale. No fresh encounter. However, I am an optimist. And who knows what happens in the next Goafest on 4th-5th-6th of April 2019.
Thank you, Goafest Organising Committee, Awards Governing Council, Jury members, participating agencies, brands, AAAI, Ad Club, sponsors, speakers and the delegates for making Goafest successful.
As I did not attend the sessions marked with *, the feedback is based on conversations with other delegates.
 
Sanjeev Kotnala is a senior marketing strategist and educator. The views here are his own